The 40 Best Shopify Apps to Increase Sales & Conversions in 2022
Looking for the best Shopify apps to increase sales and conversions on your ecommerce store?
You could visit the Shopify App Store and browse through their thousands of solutions. But that takes a lot of time.
And time is probably the one thing you don't have. That's why we did some of the work for you and put together this list of our favorite 40 Shopify apps. Read to the end to see our bonus mini-read on how to increase your Shopify sales.
Let's get started.
Shortcuts ✂️
What is the average Shopify conversion rate?
40 best Shopify apps to increase sales and conversions
Improve sales on your terms
What is the average Shopify conversion rate?
Let's first talk about Shopify conversation rates and what they should look like.
Littledata looked at the performance of 1,900 stores on Shopify. They found that the average conversion rate for stores was 1.6%.
But what does an exceptional conversion rate look like?
Littledata also discovered that having a conversion rate higher than 3.6% places you in the top 20% of Shopify stores.
And if you convert more than 5% of your visitors, you're doing phenomenal. Only the top 10% of Shopify stores have those conversion rates.
If your conversion rate is lower than 3%, you're not converting as well as you could be.
We've got 38 of the best Shopify apps to help you with that. We'll show you how to use them to turn one-time customers into your biggest supporters.
40 best Shopify apps to increase sales and conversions
OptiMonk
UpPromote
BSS Commerce
Conversific
AutoCommerce
Recom.ai
DSers
Oberlo
ReferralCandy
Recart
Tagembed
Printify
BeProfit
SEO Manager
Gameball
AfterShip
Subscriptions by ReCharge
Pre-Order Manager
Printful
Trust Hero
Klaviyo
Firepush
Engati
Omnisend
Growave
Cartloop
Sixads
Easy Google Shopping Feed
Metrilo
Multi Carrier Shipping Label
ProductStories
TxtCart
Gladly
Acquire
Clever Ads
Reveal
Tidio
Veeqo
Sendlane
GetResponse
From marketing platforms to shipping solutions, here are our favorite apps to improve your bottom line.
1. OptiMonk: Build personalized popups and optimize your customer journey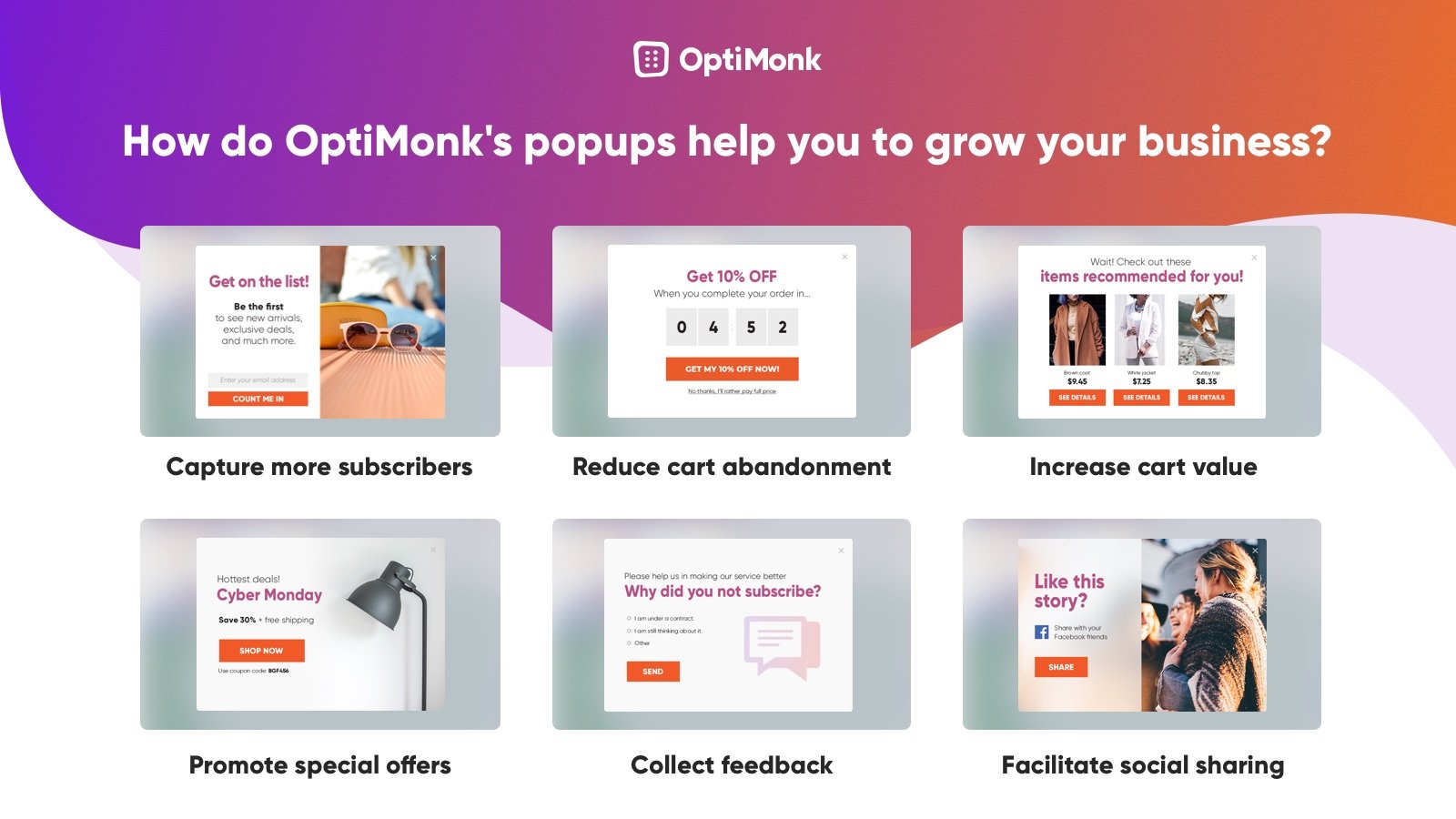 OptiMonk is a powerful Customer Value Optimization tool that enhances your customer's onsite shopping experience by sending them the right messages and the right time. You can boost sales and your conversion rate by creating personalized messages customers want to see.
Customers have increased monthly revenue and lowered cart abandonment rates by 31% with the help of OptiMonk. The app makes it easy to create and personalize popups, sidemessages, stickybars, and fullscreen messages without needing any coding knowledge.
Key Features:
A drag-and-drop editor for creating personalized messages easily, without any coding.
An extensive library of templates for visually stunning popups for your Shopify store.
Use A/B testing to optimize your onsite messages for maximum impact.
Pricing: OptiMonk offers a free plan with 3,000 monthly page views. Premium plans start at $29 a month and we can modify subscriptions to support your company as it grows.
2. UpPromote: Affiliate Marketing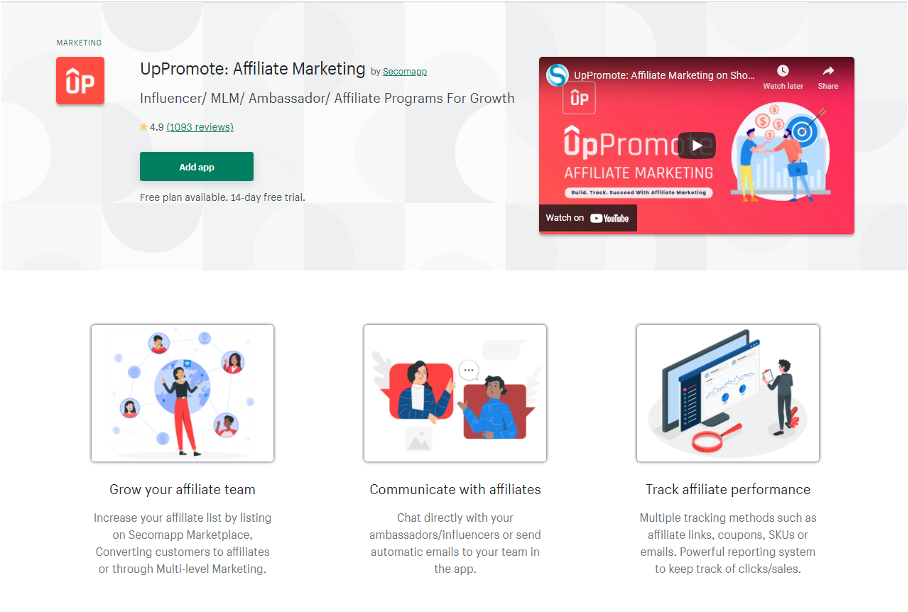 The power of affiliate marketing is to use ambassadors' voices for reaching a wider audience and increase revenue without any upfront cost. And UpPromote: Affiliate Marketing is a potential marketing tool which helps to build, track and succeed with this marketing campaign.
Key features:
No technical knowledge is required, UpPromote is a friendly app for newbies.
It helps to monitor referral traffic and sales automatically and instantly via tracking systems.
You can manage your affiliate performance by in-app analytics with details of affiliate clicks, sales, etc.
Furthermore, what differs between UpPromote and others is that you can list your offer on UpPromote Marketplace to approach more ambassadors. UpPromote is a great supporter to grow your businesses faster and stably with affiliate marketing.
Get UpPromote: Affiliate Marketing app here
3. BSS Commerce: Product Labels & Badges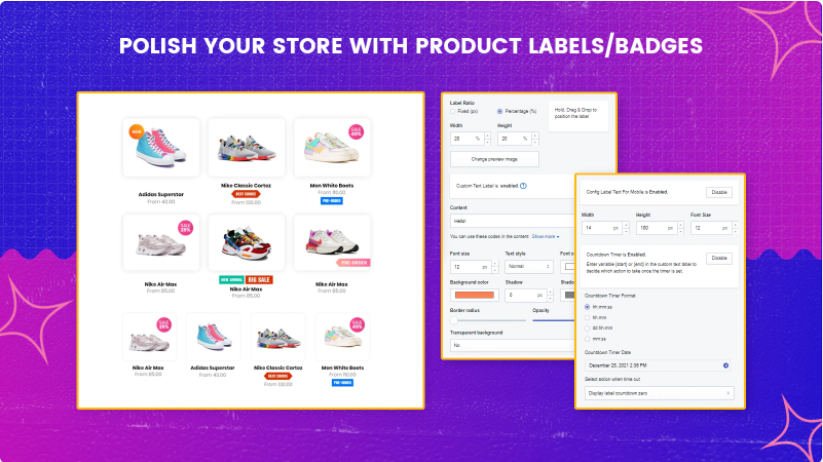 Shopify Product Labels & Badges is an app that helps merchants optimize products for better conversion rates. The app can create labels, badges & stickers for products. They can be displayed on the product image, product page, home page & other pages on merchants' stores. This helps visitors catch the sight and go to the product page.
To sum up, the Shopify product label is like a powerful CTA to stimulate and urge buyers to make decisions faster.
Key Features:
10,000+ pre-designed labels & badges
Custom labels/ badges design
Set up priority & conditions for labels/ badges
Unlimited label's position, label per variant
Aids visitors in catching the eye and proceeding to the product page
Premium features for better sales motivation strategy
Pricing: BSS Commerce offers a free plan with 50+ Free samples. Premium packages start at $5 a month and include more samples and advanced label features.
Get the BSS Commerce app here
4. Conversific: Stay up to date with your store's performance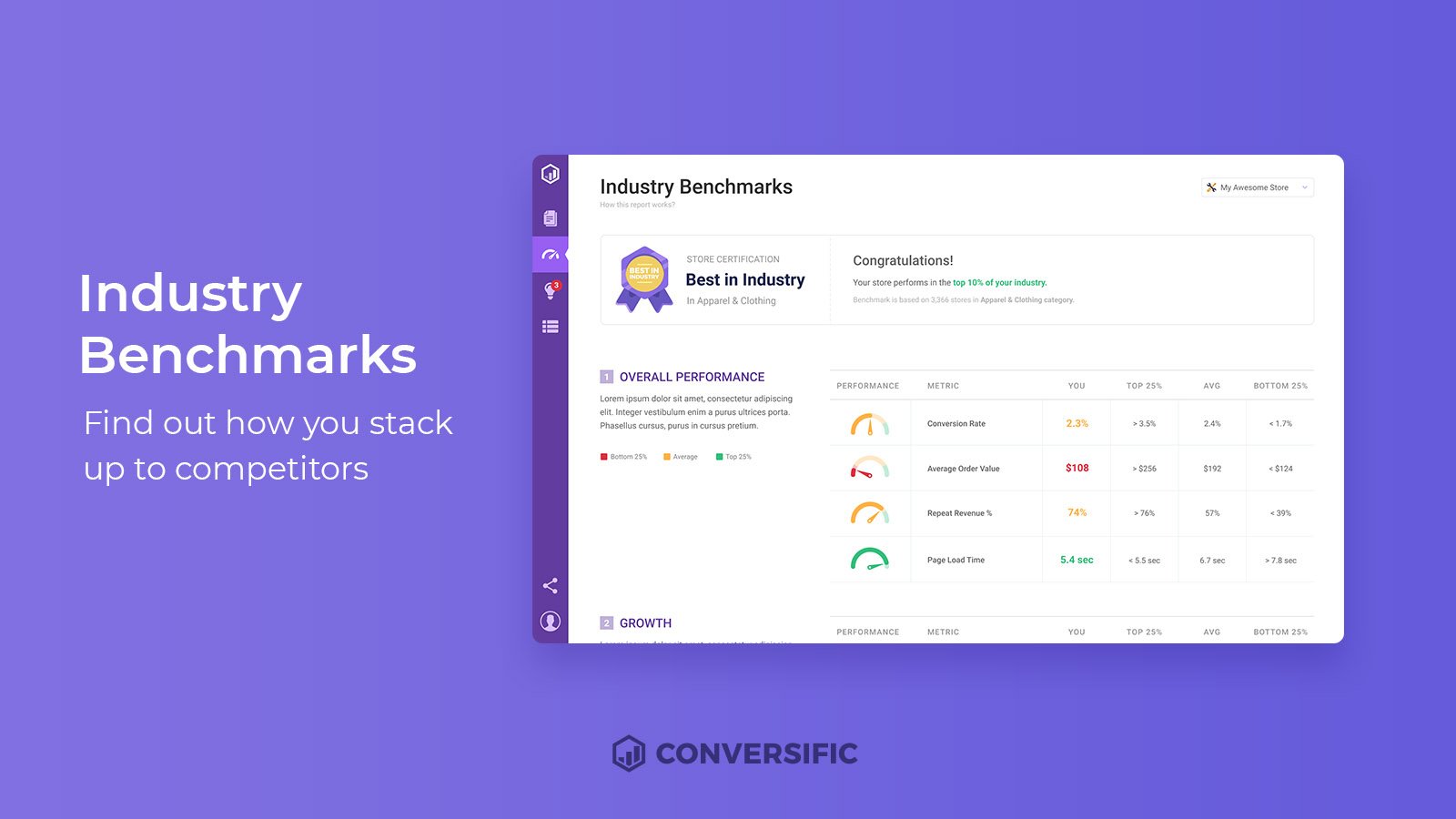 Conversific is a special analytics app for Shopify. It uses visual data to show how customers interact with your website. Use your ecommerce data to make informed decisions that improve traffic, sales, and conversion rates.
Plus, the interface is much friendlier than Google Analytics.
Key features:
Offers a wide range of metrics that makes it easier to track your business performance.
Create customized dashboards and monitor the metrics that are relevant to your business.
Gives you personalized recommendations using your Shopify data to help you reduce cart abandonment, boost your conversion rate, and more.
Pricing: Conversific offers a free version limited to one store and 1,500 orders a month. Premium packages start at $29 a month and include more extensive reporting features.
Get the Conversific app here
5. AutoCommerce: Deploy Amazon-style product recommendations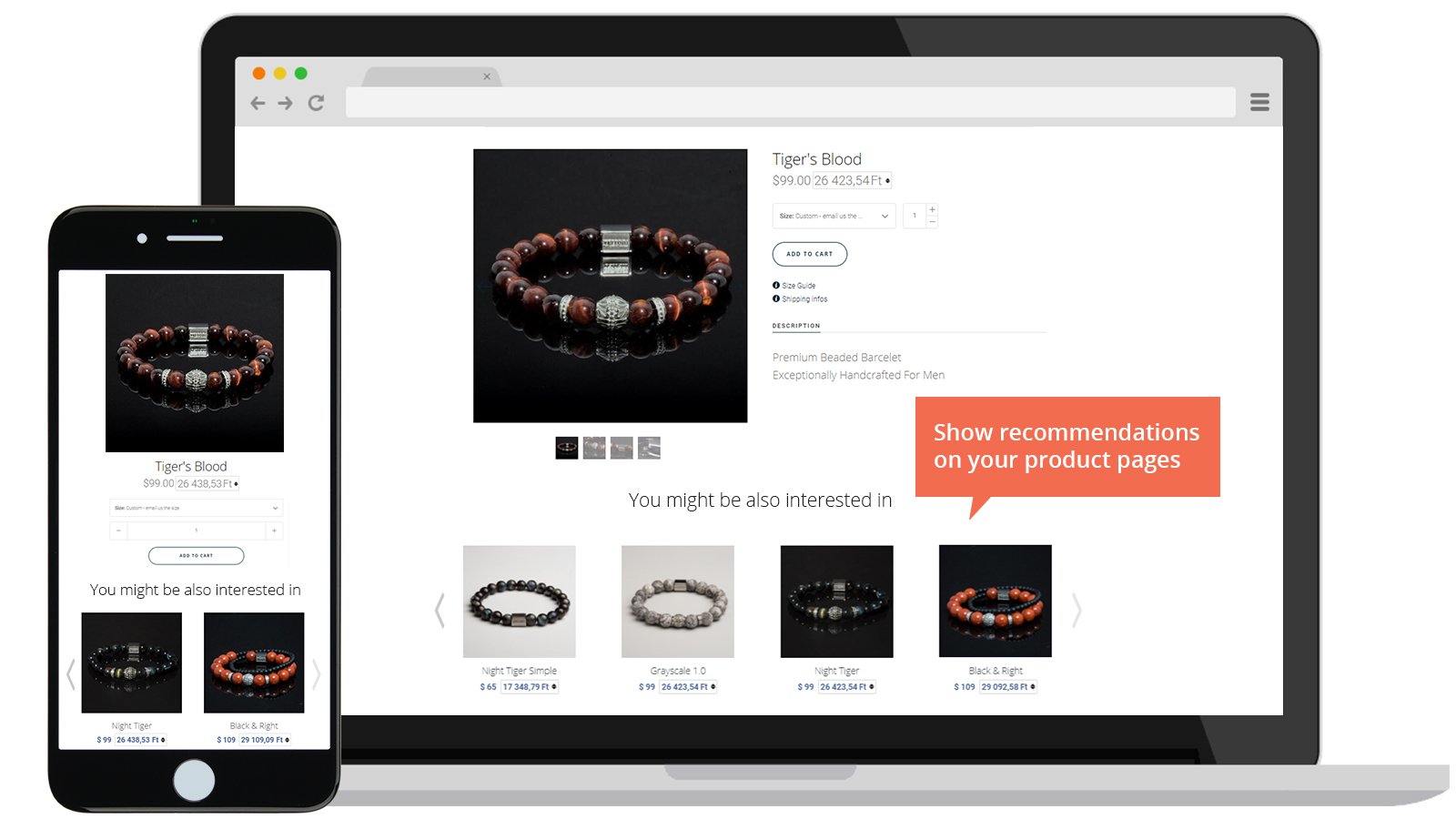 Barilliance discovered that 31% of ecommerce sales come from product recommendations.
And when it comes to giving recommendations, nobody does it better than Amazon. They set the standard for product referrals. And you can add the same type of reviews to your site with AutoCommerce.
Key Features:
Give personalized upsell recommendations based on the visitor's browsing activity.
Add your best-selling products to your homepage to draw more attention to your merchandise.
Product recommendations are 100% automated, so you don't have to manually update your list of recommendations.
Pricing: AutoCommerce is a 100% free Shopify app.
Get the AutoCommerce app here
6. Recom.ai: Upsell & cross-sell effortlessly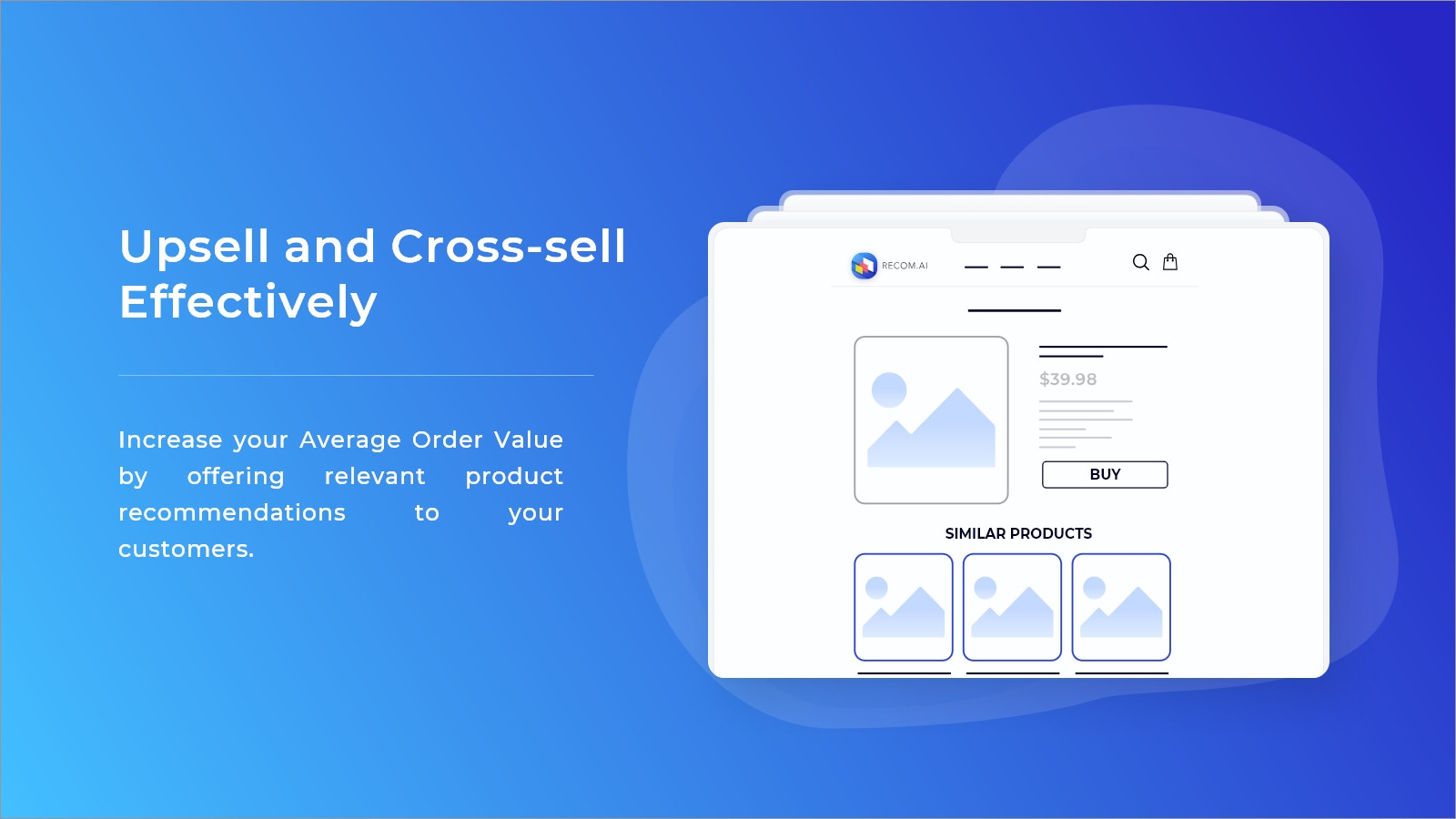 Recom.ai is a powerful marketing tool for upselling and cross-selling automation. Equipped with the innovative Amazon-like feature of instant recommendations, the app automatically finetunes products selection to customer needs in real time. Thus, due to the precise accuracy of suggestions, you'll instantly enhance customer satisfaction and increase your conversion rate.
With an intuitive interface, flexible display rules, and ready-made widgets, you can fine-tune any upselling and cross-selling campaign in seconds to start generating extra revenue right away.
Recom.ai also provides informative analytics reports to help you make data-driven decisions. On top of that, the app is mobile-friendly, and all your product recommendations will look captivating on any device.
Key Features:
Automatically show instant product recommendations based on customer preferences with AI technology.
Run and manage various cross-selling and upselling campaigns effortlessly.
Use flexible condition settings to determine widgets display according to your marketing strategy.
Save time by using predesigned widgets based on products frequently bought together, new arrivals, top sellers, similar look, related products, and many others.
Display recommendations on any store page, including a product page, collection, home, shopping cart, or checkout page.
Try handy formats like sliders, static blocks, or popups.
Track goals completion with a built-in analytics system.
Pricing: The app charges $19/month plus 2.9% of sales generated with Recom.ai.
Get the Recom.ai app here
7. DSers: Best AliExpress Dropshipping Solution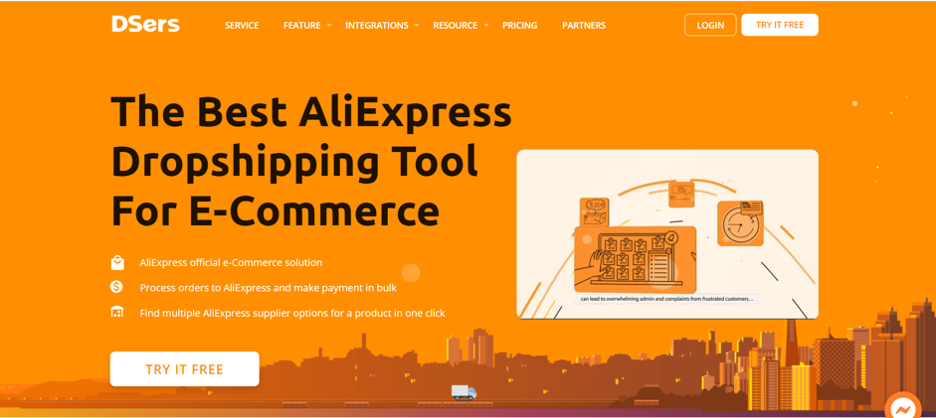 DSers is an app dedicated to helping drop shippers boost AliExpress dropshipping business and manage orders & operate online stores among Shopify, Wix, and Woocommerce stores.
You can switch among your multiple stores on the same page with only one click. With it, you can find better, cheaper, and reliable suppliers for your online dropshipping stores.
Key Features:
Supplier Optimizer: One-click to filter out the most suitable suppliers for your online stores.
Bulk Order: Help you to place 100s of orders to AliExpress in a few seconds.
Variants Mapping: Map your store products to multiple AliExpress suppliers without changing anything about your products on your store.
Stock Management: Update product stock from AliExpress to DSers and your store automatically.
Shipping Settings: Pre-select your preferred shipping method according to the order destination from your customers.
Automatic Pricing: When you publish a product to your online store, pre-set Pricing Rule to mark up your product price automatically.
Multiple Stores Management: Use one DSers account to link and manage multiple stores on one page.
Pricing: Free plan available. Premium plans start at $19.90/month.
Get the DSers app here
8. Oberlo: Manage inventory for your dropshipping store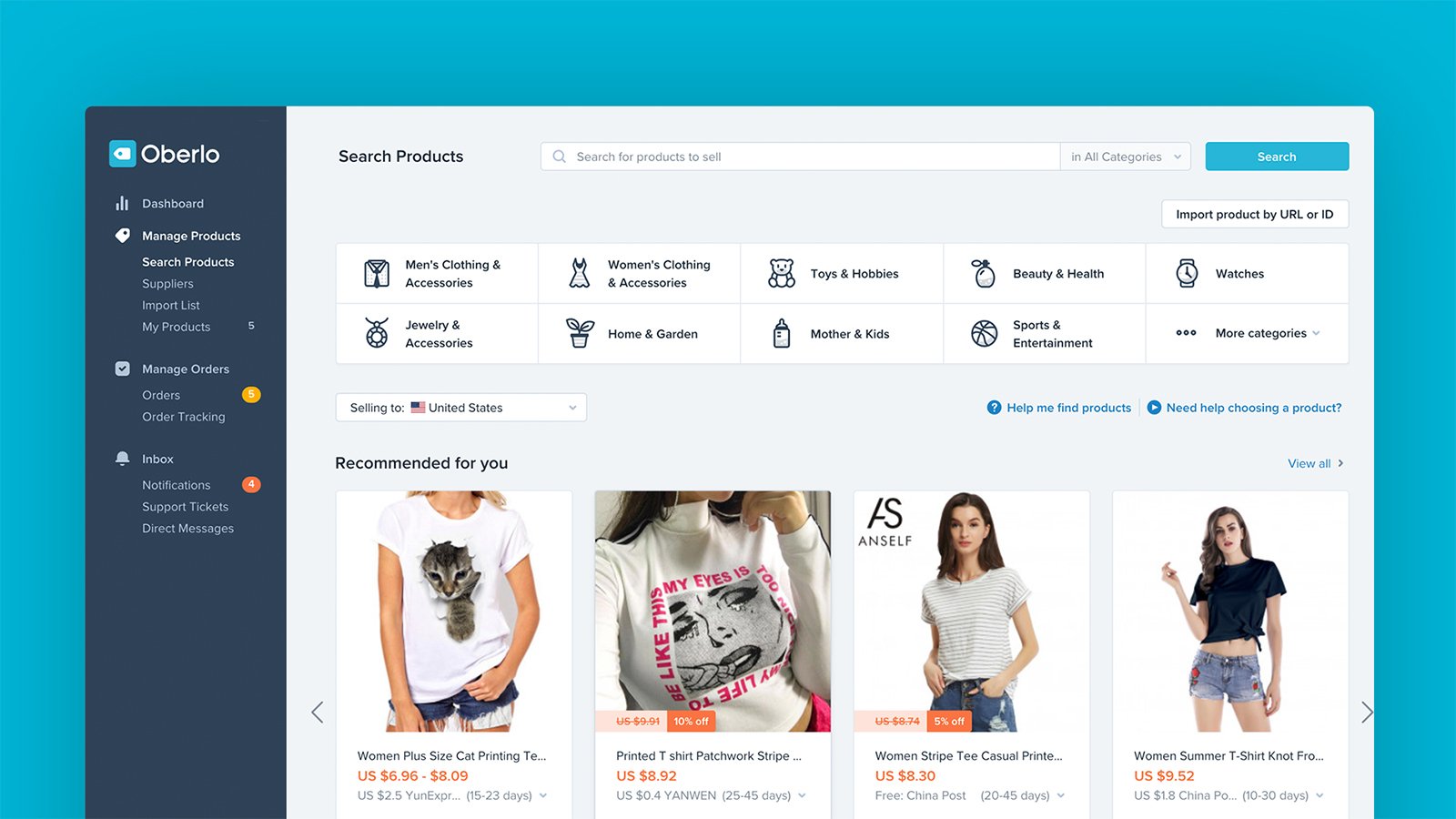 If you run a dropshipping business, Oberlo is one of the best Shopify apps you can use. You can add items from AliExpress right to your Shopify store—instead of spending hours browsing and manually adding items.
Key features:
Easy access to an incredible range of product options to add to your Shopify store.
Customize your product page in minutes.
Automatically makes purchases from AliExpress, and updates the shipping status to "fulfilled" when you mail the product.
Pricing: Oberlo has a freemium version that lets you order 500 products from AliExpress. Premium packages start at $29.90 a month.
Get the Oberlo app here
9. ReferralCandy: Create a rewards program for your store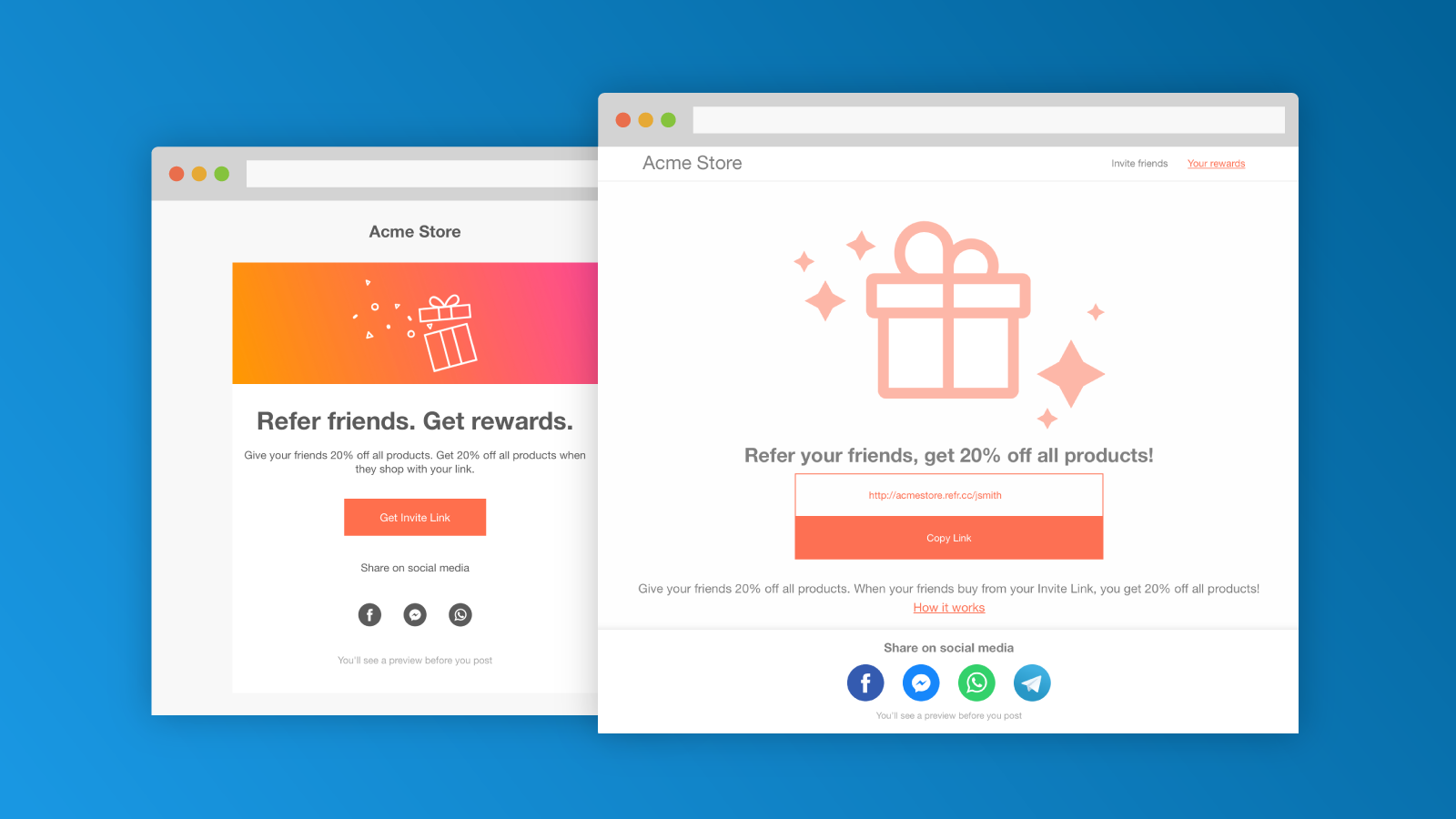 Over 90% of shoppers ask their friends and family about product recommendations. And you can get them talking about your merchandise by adding ReferralCandy to your Shopify store.
ReferralCandy uses the power of word-of-mouth marketing to increase sales on your site. Use widgets to ask customers to share your product with friends. Motivate them with rewards and exclusive discounts. Then, watch your sales increase using a built-in metrics dashboard.
Key features:
Add referral forms and widgets to your site with the click of a button.
Build customer loyalty by rewarding shoppers when they refer new customers.
Track your referral traffic and revenue with dashboards and reports.
Pricing: ReferralCandy's app costs $49 a month. There's also an enterprise package for big businesses for $3,999 a year. While ReferralCandy doesn't have a free plan, they do offer a 30-day free trial.
Get the ReferralCandy app here
10. Recart: Use Facebook Messenger to engage with customers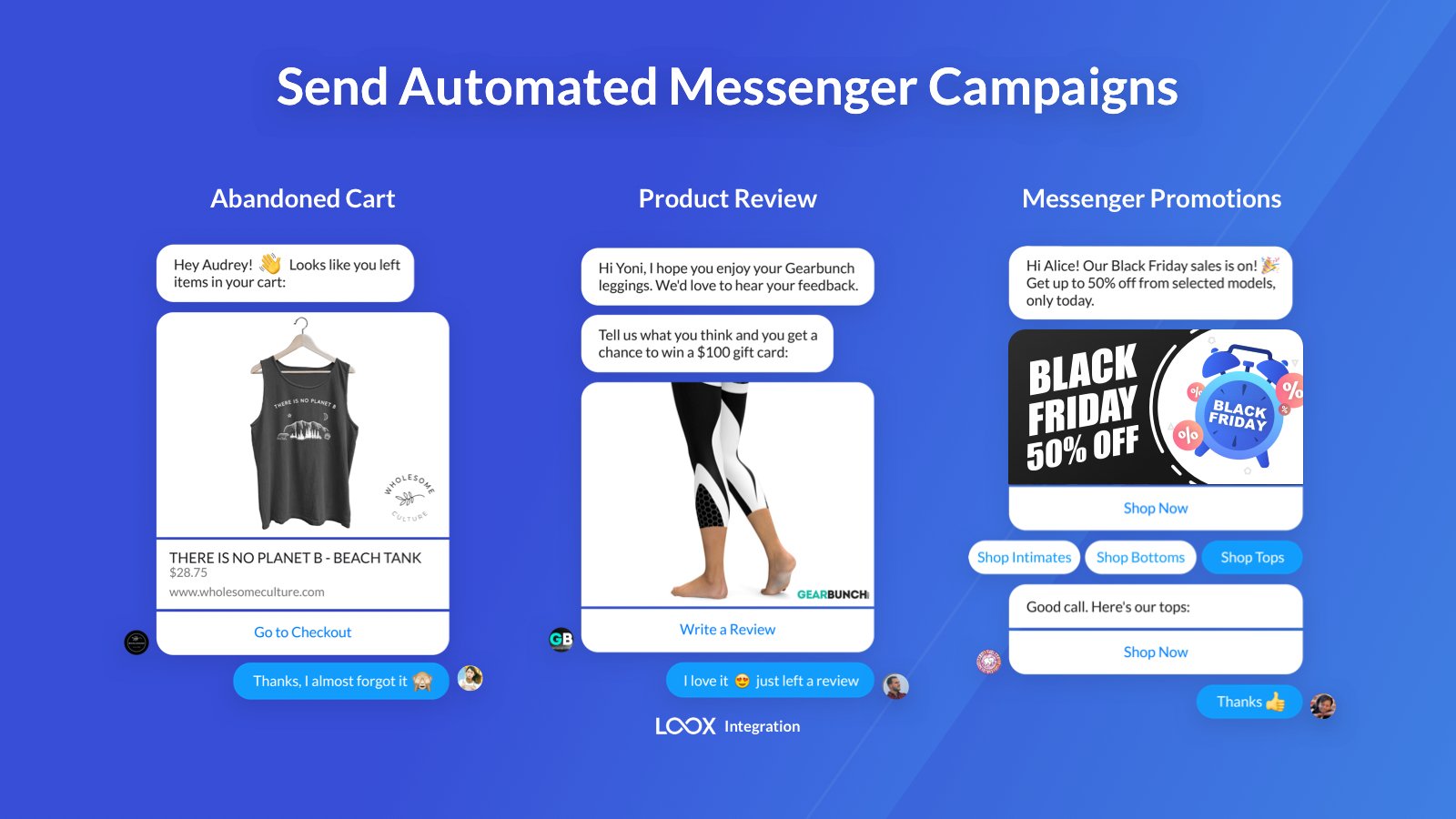 Recart turns Facebook Messenger into a marketing platform for your Shopify store. Take advantage of Messenger's high open rates and send messages directly to customers' smartphones.
You can use Recart's app for nearly any type of touchpoint. Contact customers about abandoned carts, send welcome messages to new customers, or keep customers up-to-date with order receipts and shipping notifications.
Key features:
Provides two-way communication with customers in real-time.
Integrates with Klaviyo, OptiMonk, Omnisend, and several other popular ecommerce tools.
Comes with a template library with a wide range of themes and campaign goals.
Pricing: Packages start at $29 a month. There's also a "Growing Business" plan for $499 a month. This is for companies that generate over $1 million annual revenue.
Get the Recart app here
11. Social Media Feeds by Tagembed: Add beauty & grace to Shopify store & boost UGC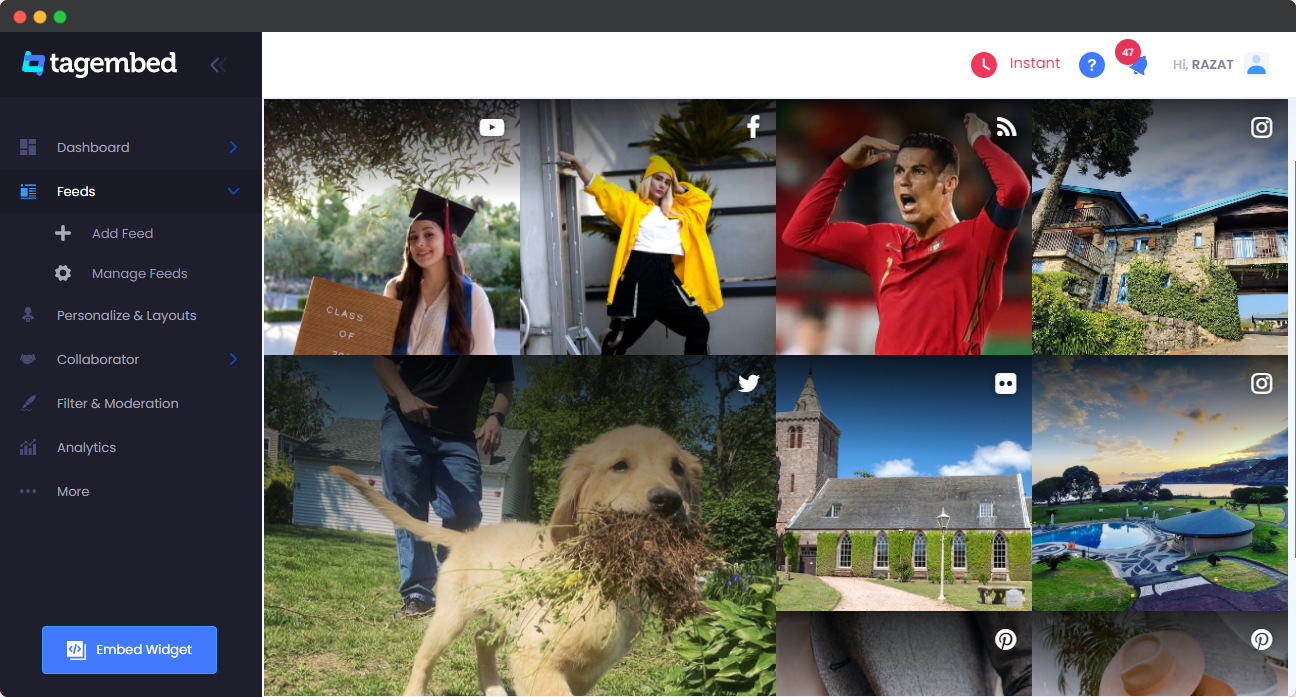 In this highly competitive environment at Shopify, you must have an attractive store to attract, engage and convert visitors to customers.
More visitors means more chances to attain sales. And this is where Social media feeds by Tagembed come in handy. It helps in collecting social feeds, reviews, etc., from 15+ social networks and then displays them on your website without any coding.
Moreover, it also helps in collecting and displaying social proofs (UGCs) related to your business. Hence, by displaying them on the website, you can boost the UGC & prove your credibility to your visitors.
Key features:
The app is coding-free, so even if you don't have any coding experience or knowledge, you can still run and operate the app like a pro.
The responsive widget of the app adjusts itself according to any screen type. So it doesn't matter if your visitor is using a PC, mobile, or tab. The charm of the feed remains the same.
You can even customize the feed widget as per your requirements by changing theme and templates, font size, font style, and more.
The app also helps remove all the unwanted and irrelevant content from the feed by using the Moderation & Filter feature.
Custom Posts, Custom CSS, Hashtag Highlighter, CTA (like Buy Now button), Analytics, and more.
Pricing: The app offers a Free Forever plan that solves the purpose, but you can also opt for the Basic, Pro, and Plus plan that costs $9/month, $19/month, and $29/month, respectively.
Get the Tagembed app here
12. Printify: Choose from more than 250 products and create a merchandise store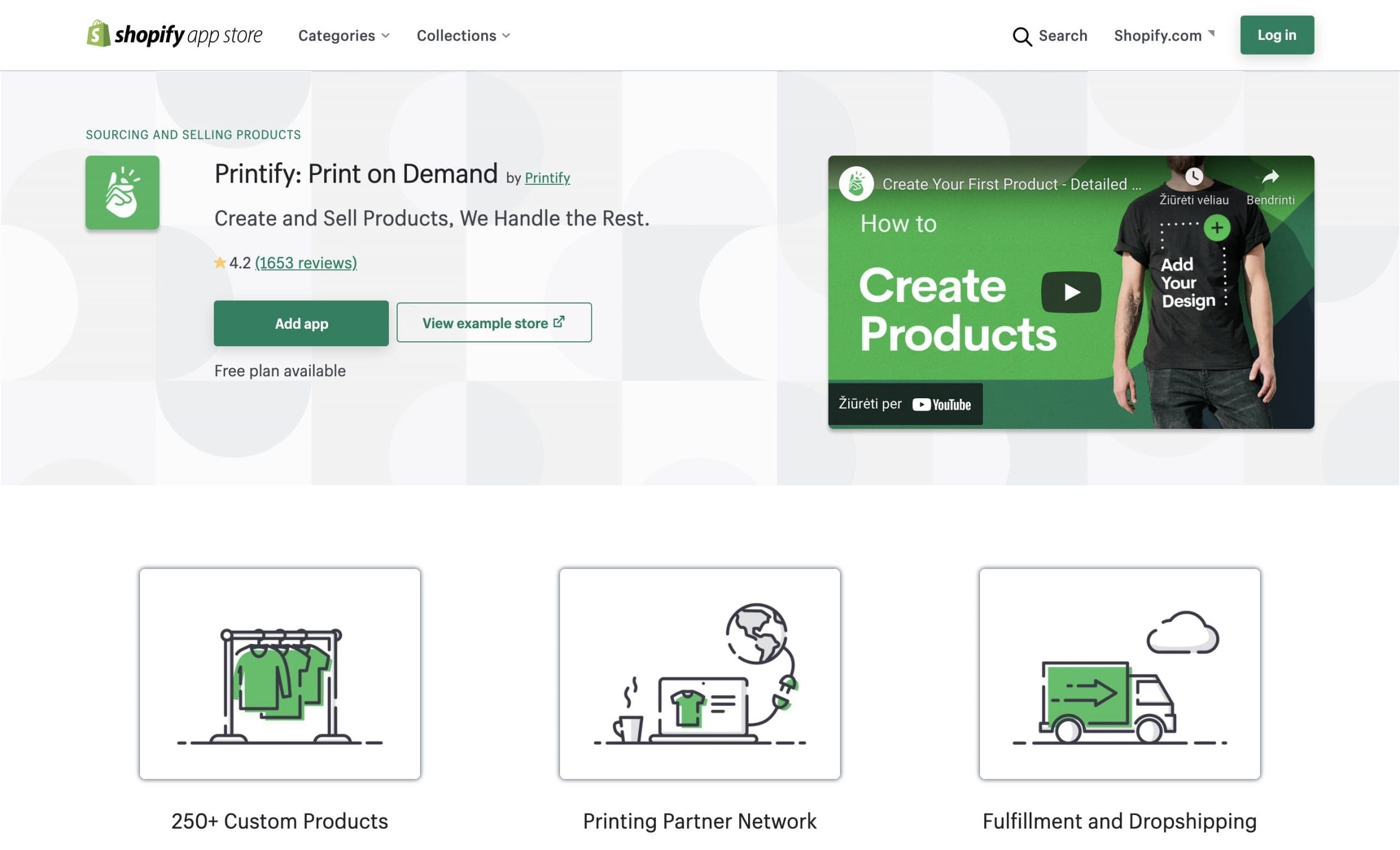 Printify offers an exceptional Shopify integration that allows you to start a print-on-demand business and sell custom t-shirts, mugs, sneakers, hoodies, and more.
To get started, create a Printify account and add the application button to your Shopify store. Then, sign in and select one of the available print providers and a product you want to add.
Upload the product design to the mockup generator and publish it. Printify will sync the added product with your store and take care of order printing and shipping.
Key features:
A catalog with more than 250 different products
A printing network with partners from China, the US, Australia, and Europe
A built-in mockup generator to create custom merchandise
An automatic product syncing with online stores
Pricing: Printify has free and premium plans. The free pricing model supports 5 online stores and comes with all the basic features.
The premium model costs 29 dollars per month, supports 10 online stores, offers up to 20% discount on all products, and provides a self-serve help desk.
Get the Printify app here
13. BeProfit Profit Calc & Reports: Discover your true profit at a glance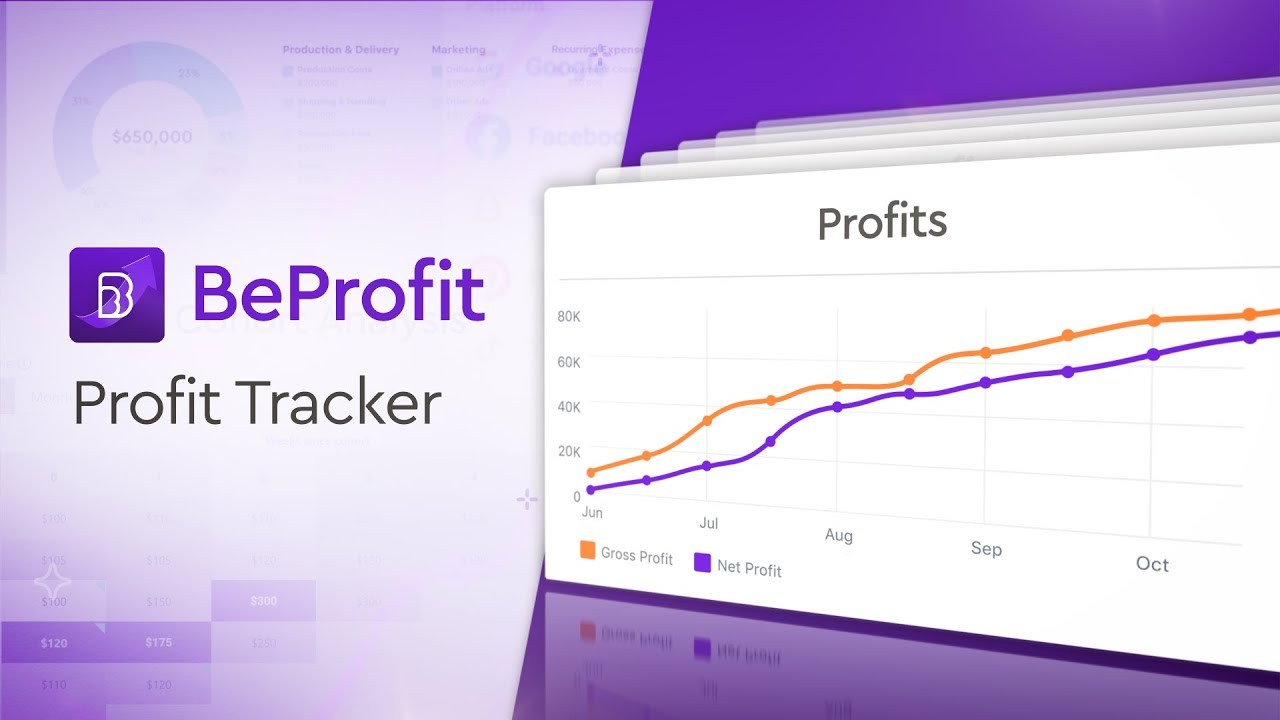 BeProfit was chosen as a Shopify Staff pick of July 2021. It's a Shopify profit calculator app to track and analyze profits and expenses in the most intuitive and easy way there is.
The BeProfit dashboard gathers all your financial data in one place and presents it in easy-to-digest visuals, turning complex data into clear business insights.
Key features:
Discover your true business profits
Track all your expenses in one place
Replace spreadsheets with intuitive charts and graphs
Create, schedule and export all types of reports
Connect your ad platforms to get insights on your marketing efforts
Calculate your CLV (Customer Lifetime Value)
Enjoy excellent customer support
Pricing: BeProfit offers a free plan limited to 10 monthly orders. Premium packages start at $25 a month with a 14-day free trial.
14. SEO Manager: Increase your website traffic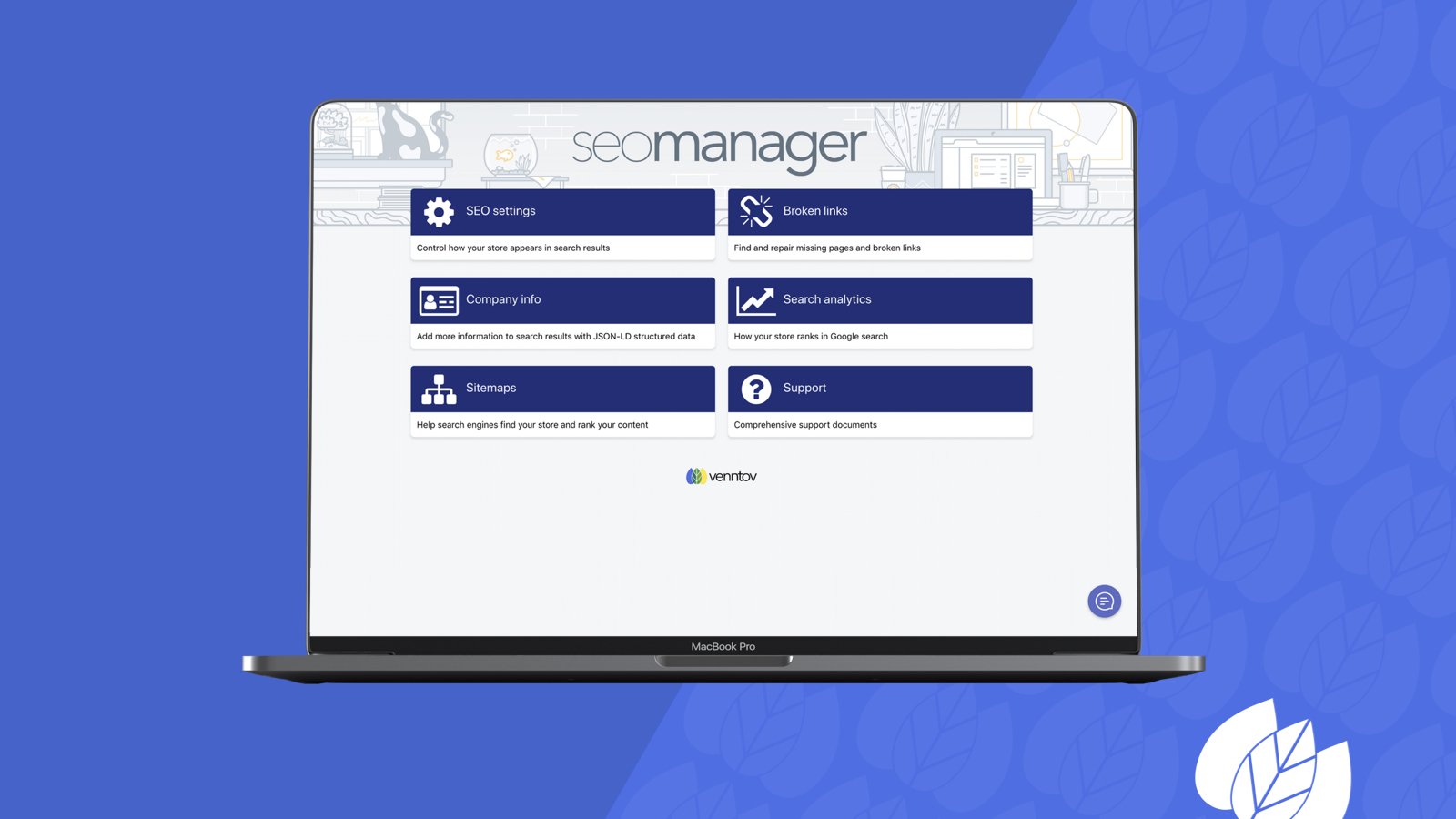 There's a reason why SEO Manager is one of the most popular apps on Shopify. It completely demystifies SEO—so anyone can optimize their web traffic.
You can use it to optimize keywords, fix broken links, and improve product descriptions in half the time. Pair SEO Manager with OptiMonk, and you can bring even more traffic to your Shopify store and increase your conversion rate and sales.
Key features:
Comes with a wide range of tools to help you maintain good SEO practices.
Provides seamless integration with Google Trends and Google Search Console.
Actively scans your Shopify site for issues then provides you with solutions to improve your SEO ranking.
Pricing: SEO Manager costs $20 a month. They also give a 7-day free trial, so you can explore the app before buying it.
Get the SEO Manager app here
15. Gameball: Create gamified rewards programs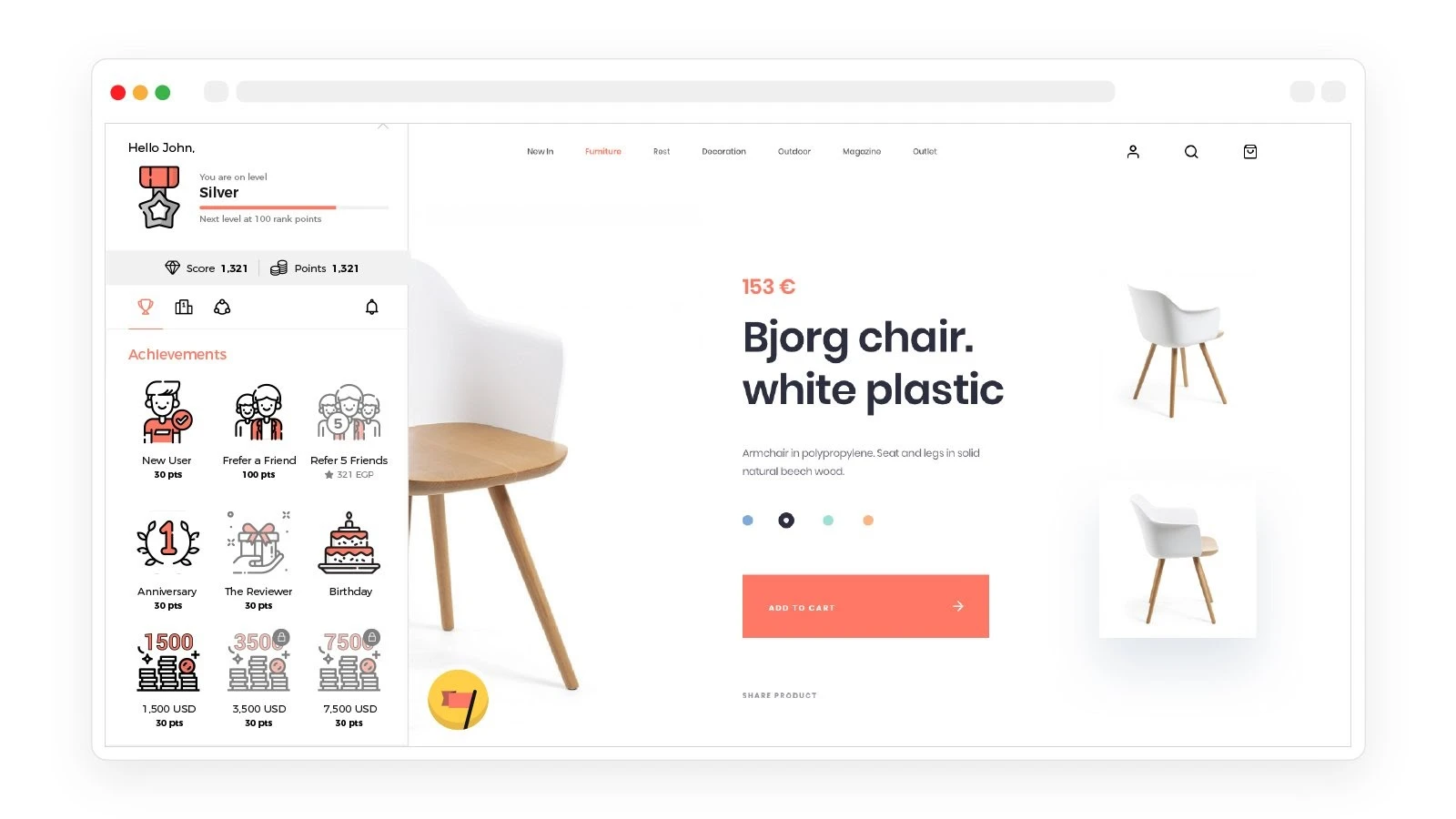 Gameball is the perfect app for you if you want to improve sales and customer retention. It brings loyalty and referral programs to your Shopify store through gamification.
Shoppers earn points when they complete various tasks like reviewing a product or ordering 10 or more items. Customers can redeem these points for discounts, prizes, and even cashback. Best of all, you determine the prizes and decide how much your points are worth.
Key features:
Gamification elements like badges and level-ups add a fun twist to your rewards program.
Create a referral program that rewards people for bringing new customers to your Shopify subscription store.
Gameball has a dashboard feature that lets you track the performance and revenue of your reward programs.
Pricing: The Gameball app has a forever-free version with basic gamification elements and loyalty points. Premium subscriptions start at $29 a month.
Get the Gameball app here
16. AfterShip: Simplify your fulfillment journey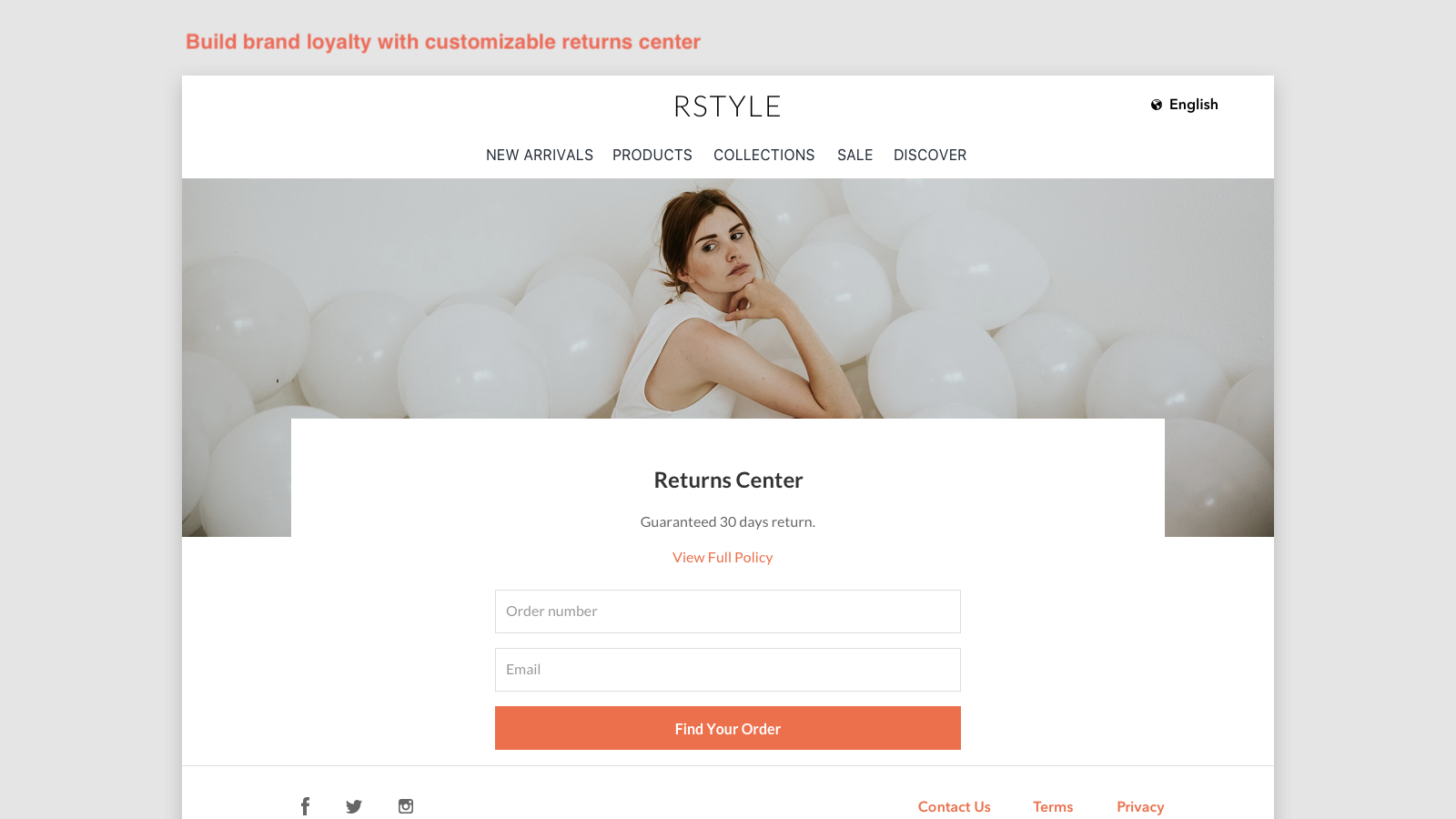 Your customer's post-purchase experience is just as important as their onsite journey. That's why a hassle-free return policy will bring back 96% of customers. This is where the AfterShip app comes in.
AfterShip is an amazing customer support tool that simplifies shipping for you and your shoppers. Their app adds a returns portal directly to your website, giving customers a place to log returns or exchanges easily. AfterShip also gives you a returns management platform for tracking and managing all your returns in one place.
Key features:
Automatically generates prepaid shipping labels and return instructions to include with your orders.
Delivery notifications—so customers stay up-to-date throughout the delivery process.
Supports three types of resolutions: refunds, store credit, and exchanges.
Pricing: Aftership offers a free plan that processes three returns a month. They also offer tiered premium plans based on the monthly returns you receive via their app.
The cheapest plan is $9.99 a month, and it processes 20 returns a month. The most expensive plan is $99.99 a month and processes 400 returns a month.
Get the AfterShip app here
17. Subscriptions by ReCharge: Add subscriptions to your website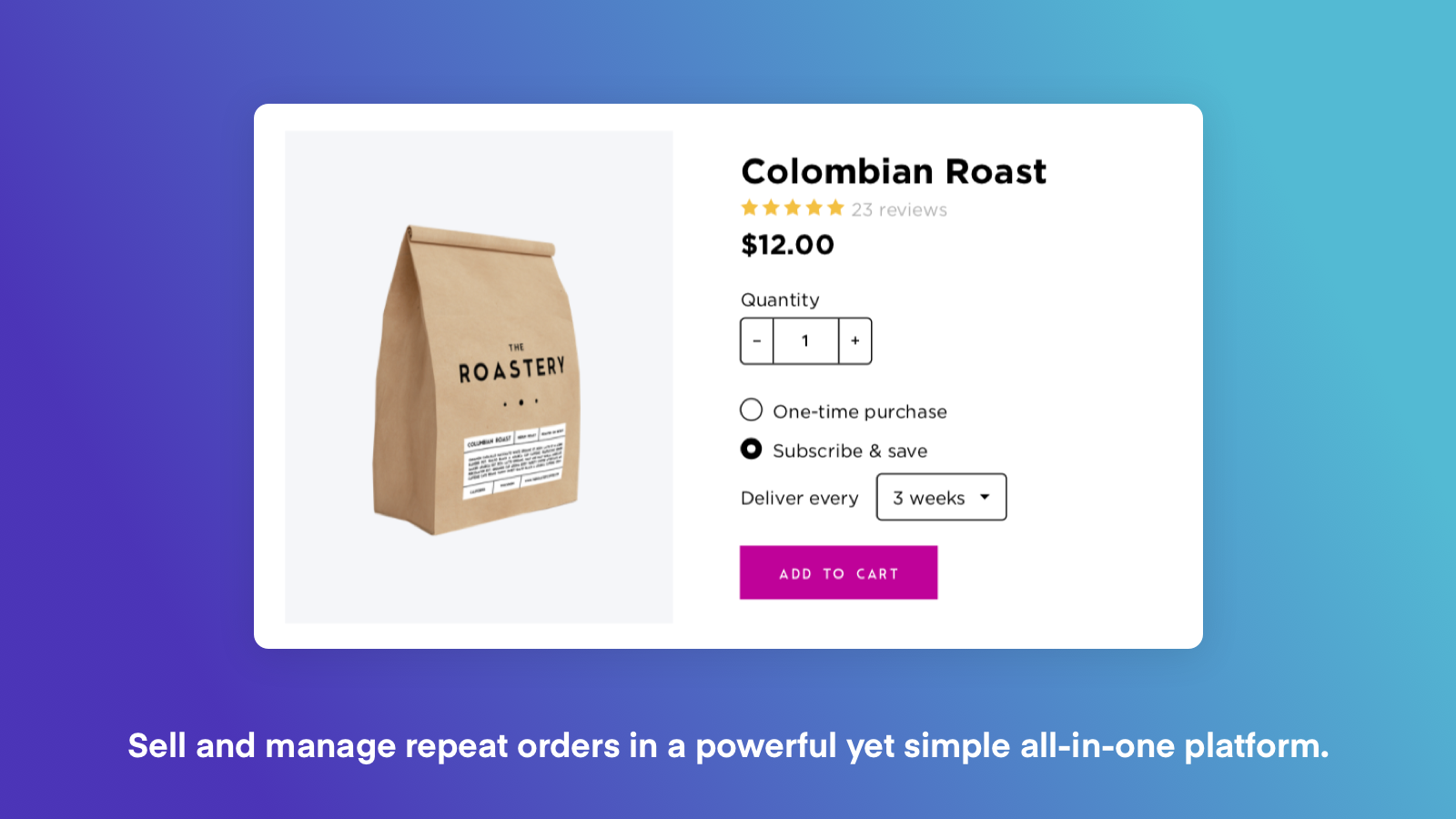 Subscriptions by ReCharge is a must-have app for any business using the subscription model. Add subscriptions to your Shopify store in just a few minutes. It's the perfect way to increase sales through repeat purchases.
ReCharge also gives you a subscription portal for customers to update or cancel their subscriptions digitally. That means customers don't need to worry about contacting customer support.
Key features:
Customers can easily manage their subscriptions and reschedule deliveries through the subscriptions portal.
Improve your average order value by allowing customers to add one-time purchases and subscriptions to the same cart.
Automatic email notifications alert customers of any subscription changes.
Pricing: Subscriptions by ReCharge has a 60-day free trial, so you have enough time to gain subscribers before buying a plan. Plans start at $60 a month.
Get the Subscriptions app here
18. Pre-Order Manager: Add a pre-order option to your Shopify store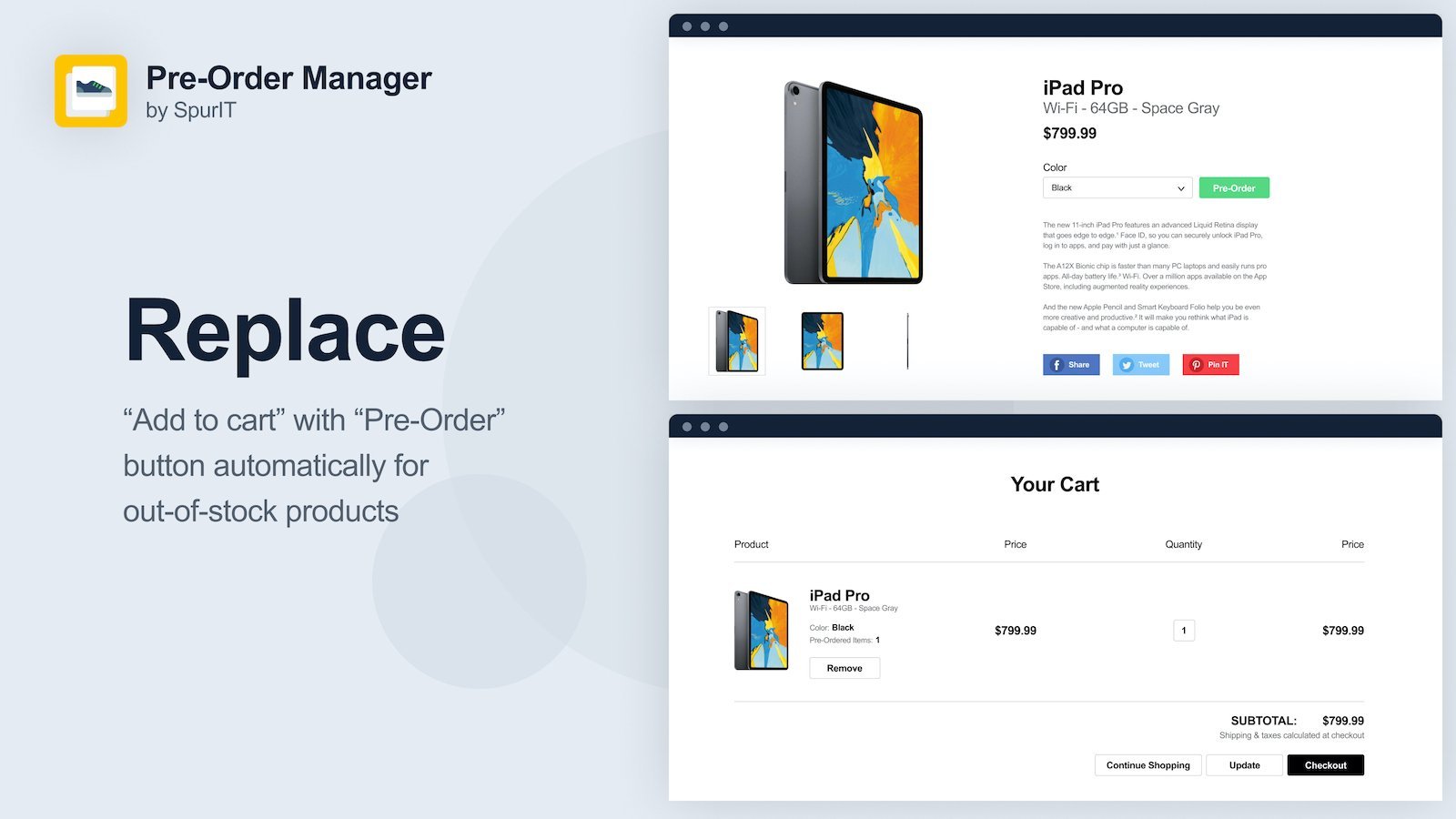 If you're a retailer looking for a Shopify app that increases sales, you'll want this one.
When you run out of an item, the "add to cart" button is usually replaced with text saying "Out of stock." It hurts your conversion rate because most customers see this and then leave your site.
The Pre-Order Manager app helps you retain those customers by turning your "add to cart" button into a "pre-order" button. That way, they can still purchase an out-of-stock item from your online store, and you can send it to them ASAP.
Key features:
Set up general rules for pre-ordering any item, or make unique rules for specific items. (e.g. only offering pre-order status on special brands or product variants)
Your item automatically switches to the pre-order status once you sell out of that product.
Apply discounts to pre-orders with the paid version of the app.
Pricing: Their free plan lets you use pre-order on one product. Premium plans start at $24.95 a month or $249.50 a year, and it takes care of your whole inventory.
Get the Pre-Order Manager app here
19. Printful: Create and sell personalized products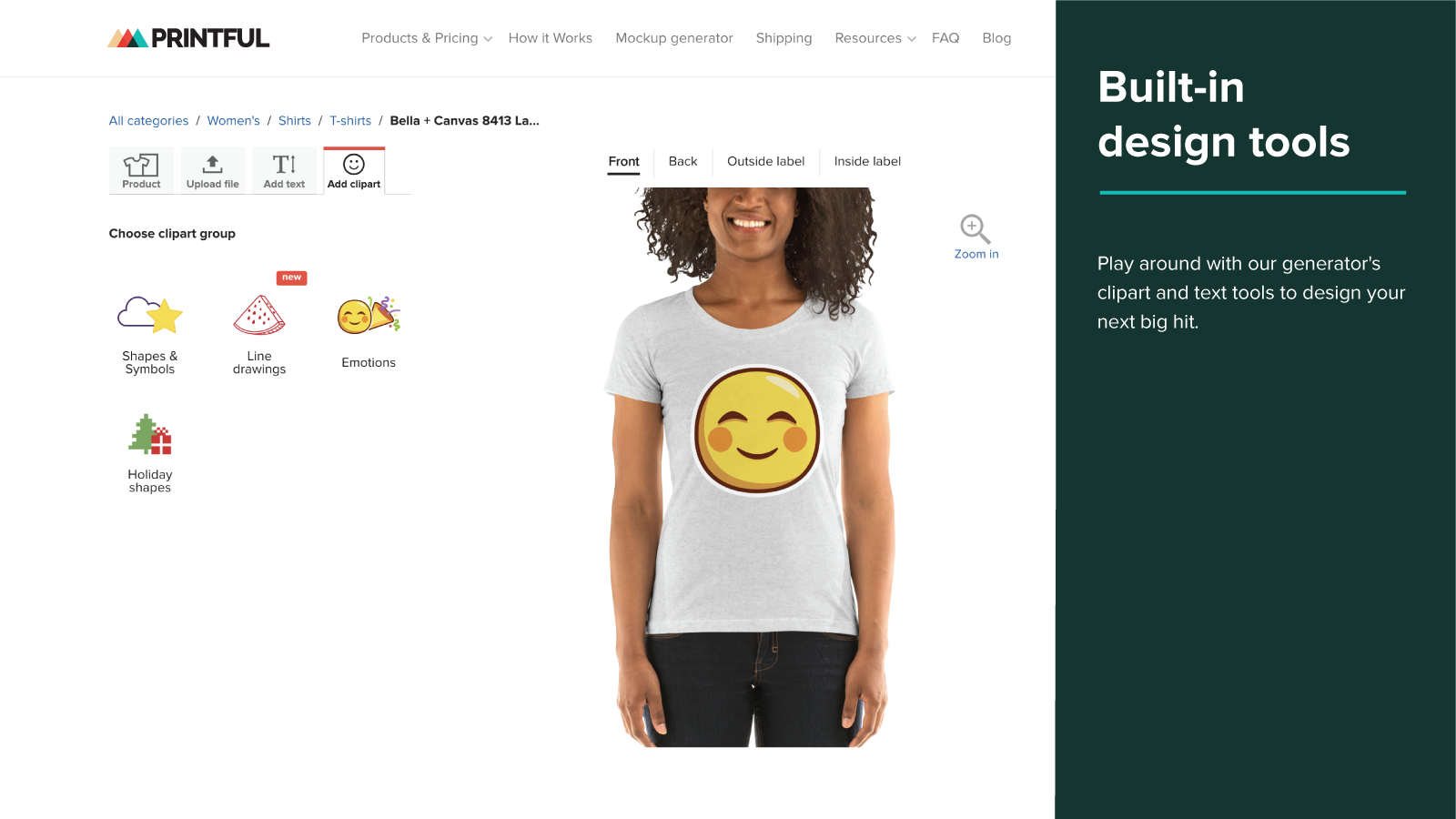 Printful lets you design and sell different products on your site. Use it to add prints, embroideries, and engravings to your products.
Here's how it works: You design the product and place it on your website. A customer purchases the item, then Printful will print and ship the item for you.
Key features:
Customers can personalize their products without having to leave your Shopify store.
On-demand printing and shipping, so you never have to track inventory on your product pages.
Comes with a built-in design tool to customize your products and create brand logos.
Pricing: Printiful is completely free, but they do charge you for printing and shipping. Consider that when setting your prices.
Get the Printiful app here
20. Trust Hero: Add social proof to your website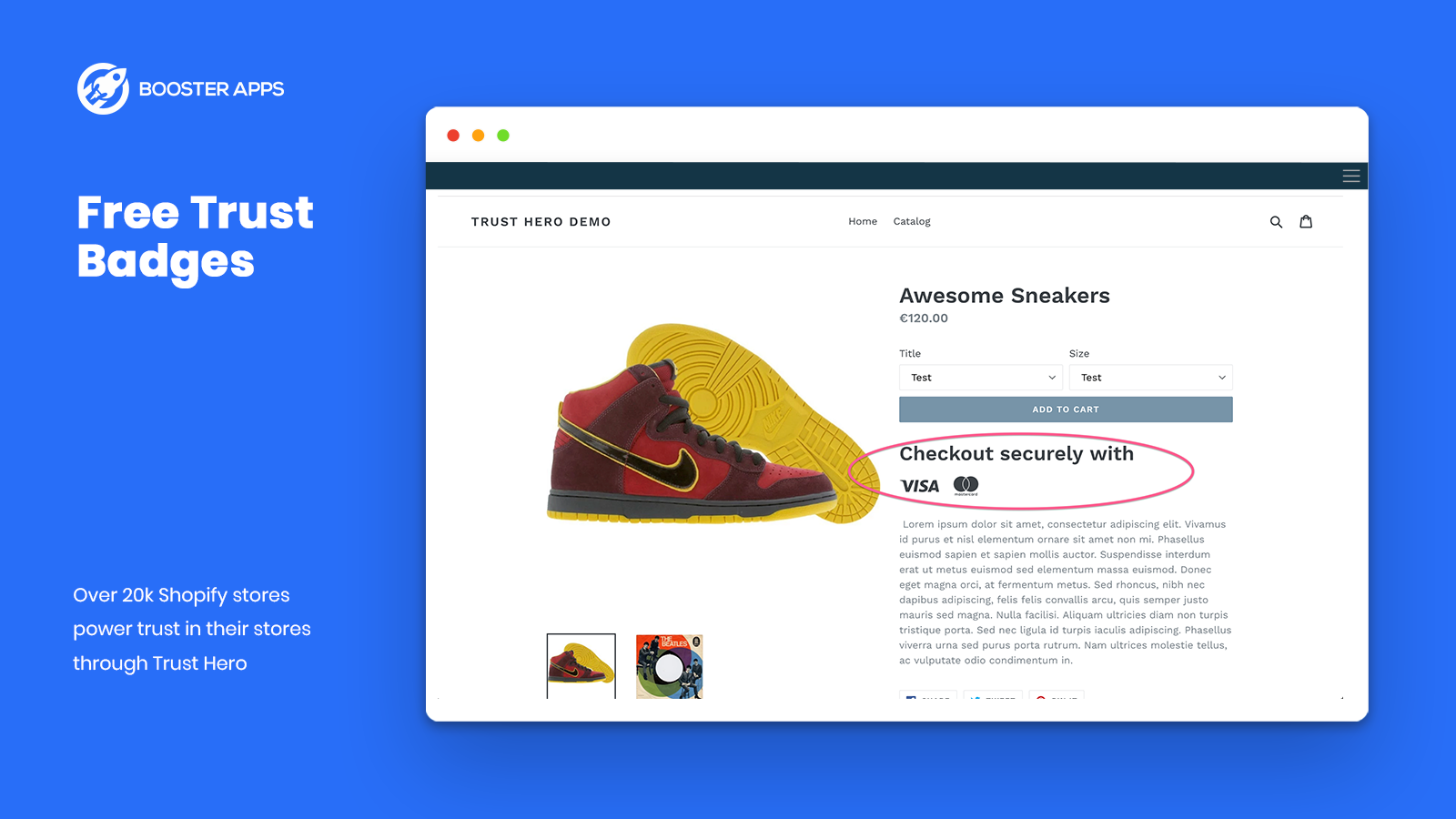 Trust Hero is an app that uses social proof to improve your sales. Around 15% of customers never complete their online orders because of security concerns.
Trust Hero helps prevent this type of shopping cart abandonment by adding a trust badge to your site. This reassures customers that their financial information is protected.
Key features:
Ability to customize your trust badges to match your store's theme.
Optimized for visitors browsing on desktop, mobile, and tablets.
Add a range of payment icons to your product pages, including Visa, Apple Pay, and Bitcoin.
Pricing: Trust Hero is a completely free Shopify app.
21. Klaviyo: Target customers with personalized emails
Klaviyo is one of the most popular email marketing apps among Shopify store owners. You can use it to segment customers and target them with personalized emails and text messages. Save time by automating message sequences, like welcome messages, abandoned cart emails, and thank-you messages.
Combine Klaviyo with Softwareconects and watch your email marketing campaign skyrocket. Use OptiMonk to grow your email list and Klaviyo to stay connected with both customers and prospects.
Key features:
You can build code-free automated workflows using the setup wizard.
Easily segment your email list to target users based on how they interact with your Shopify store.
Offers a seamless integration with a wide range of popular ecommerce tools—including OptiMonk, Zendesk, Smile.io, and Facebook Advertisements.
Pricing:The Klaviyo app offers a free package that supports messaging up to 250 contacts. Premium services start at $20 a month.
22. Firepush: Engage with customers over multiple platforms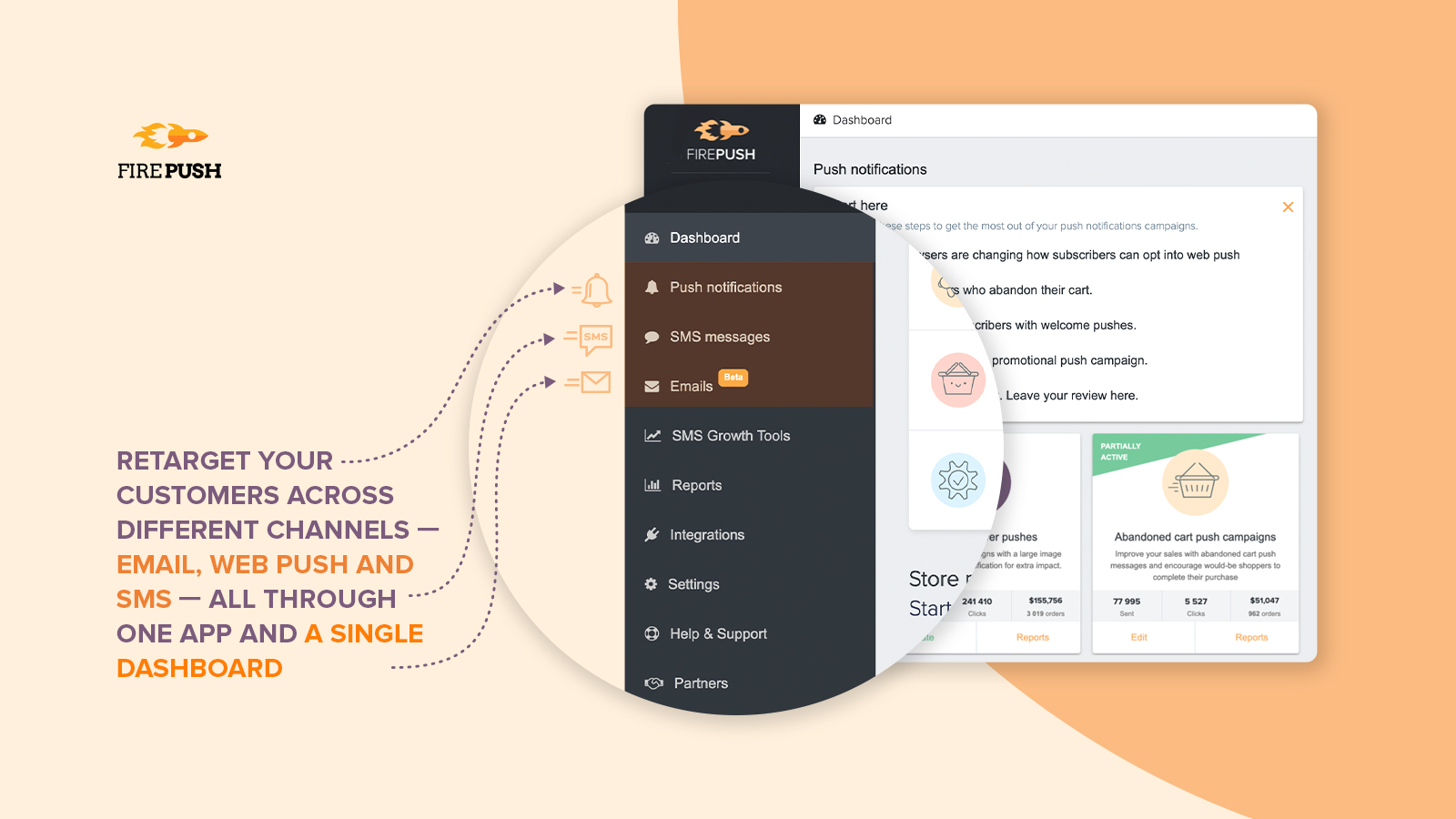 More ecommerce brands are adopting an omnichannel approach—meaning they're using more than just email to communicate with shoppers throughout the customer journey.
Currently, SMS is one of the most popular ways to connect with customers. It boasts 98% open rates, compared to a 20% open rate for emails. So, there's a greater likelihood customers will read your text messages.
With Firepush, you can message customers using email, SMS, and even web push notifications. Become truly omnichannel and enjoy the benefits of both SMS and email marketing. Use it to send personalized messages directly to your customers' phones. Abandoned cart reminders, promotions and discount codes, and welcome messages are just a few examples of what you can do with Firepush.
Key features:
Target your customers at the right time with automated SMS, email, and web push notifications.
Choose from a library of easy-to-use templates and launch your campaign in minutes.
Grow your marketing list and improve your conversion rate by integrating Firepush with the OptiMonk app and other popular lead generation tools.
Pricing: Firepush offers a free package with 100 web push notifications a month. SMS and email marketing campaigns are available with the basic plan for $15 a month.
23. Engati Shopify Chatbot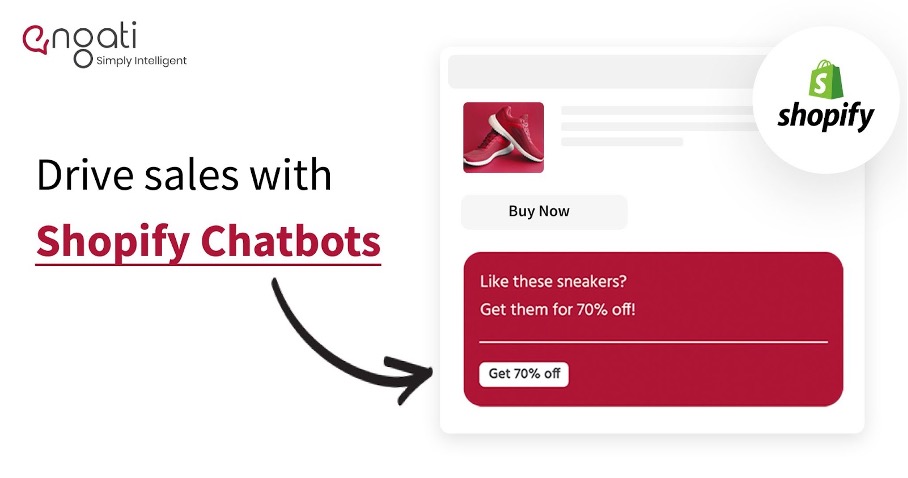 Isn't it just annoying when your customers add products to their cart and never end up buying them?
Your Engati chatbot goes beyond the traditional role of chatbots and helps you convert those shoppers to your Shopify store. It can trigger a promotional message along with a discount code when shoppers add items to their cart or perform other actions that you want them to.
Key features:
It's a pre-configured bot with domain intelligence for ecommerce, so you just have to do some minor customizations for your store instead of building a bot from scratch.
Engage your customers on Instagram, WhatsApp, Facebook Messenger, and 10+ channels in 50+ languages.
Plays well with your existing marketing, sales, and support software, integrating with Google Sheets, Google Calendar, Salesforce, Hubspot, and much more.
Incorporate the human touch with live chat and video calling.
Pricing: Engati's Shopify Chatbot is free for 1 month. However, if you need greater capacity, you can opt for respective plans.
24. Omnisend: Automate your marketing and sales campaigns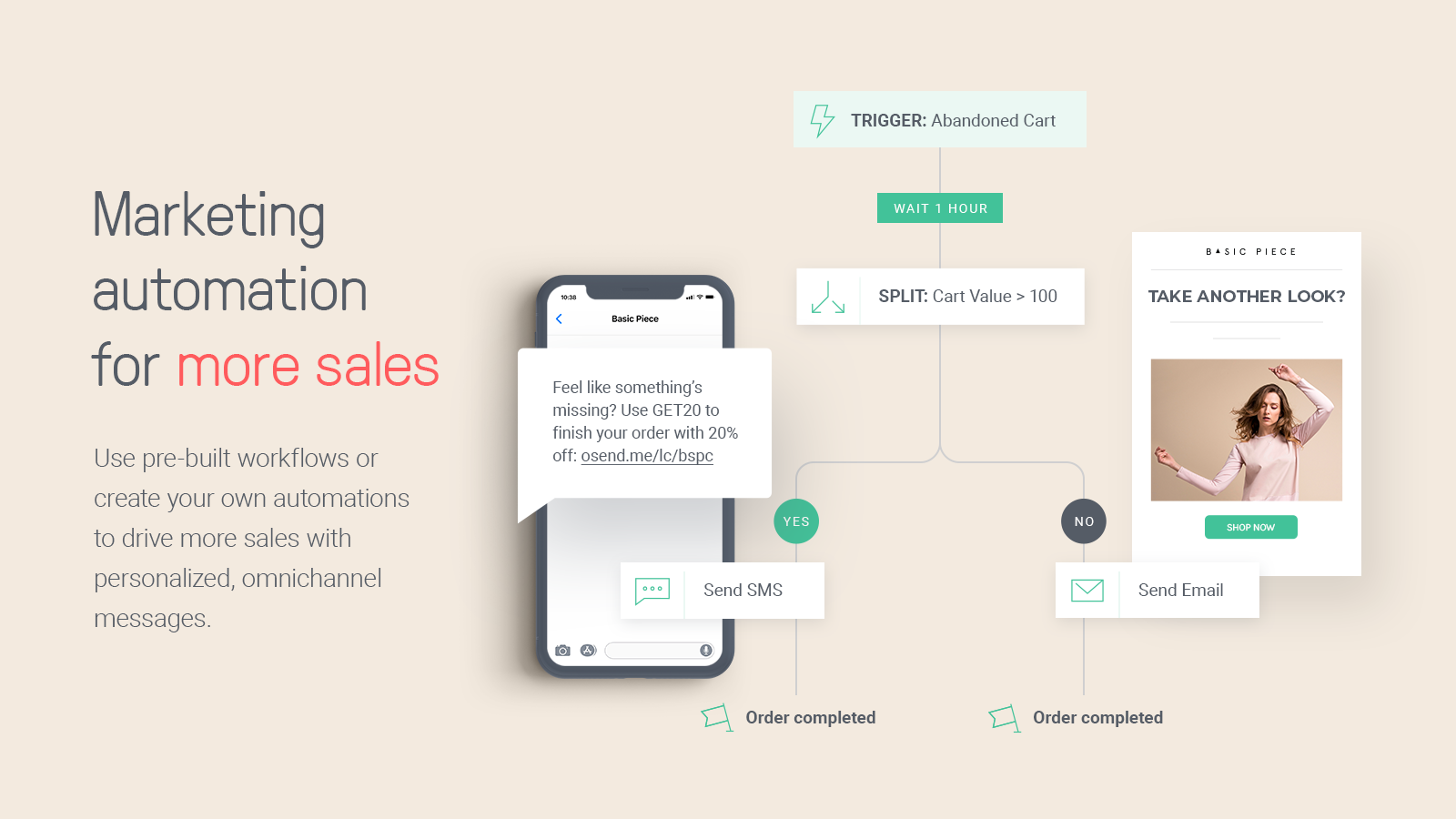 Omnisend promotes itself as a powerful marketing tool for staying connected with your customers. But it actually does a whole lot more.
Think of it as a comprehensive communication platform where you can enhance your customer journey through multiple avenues of communication.
Use Omnisend to send automated messages to customers via SMS, email, push notifications, and Facebook Messenger. Building workflows with Omnisend is quick and easy. You don't need any coding knowledge to connect with shoppers for customer service issues, abandoned cart messages, product updates, and anything else you can think of.
Key features:
Use Omnisend's pre-build workflow to automate your campaigns in minutes. Or build one from scratch that's designed specifically for your online store.
Use the drag-and-drop newsletter builder to create visually stunning emails.
Learn the best way to communicate with customers by using Omnisend's analytics and customer segmentation tools.
Price: New customers get a 14-day free trial where they can explore the unlocked version of the app. Omnisend offers a free plan with 15,000 free emails a month. Premium subscriptions start at $16 a month.
25. Growave: All-in-one tool for managing your sales and marketing campaigns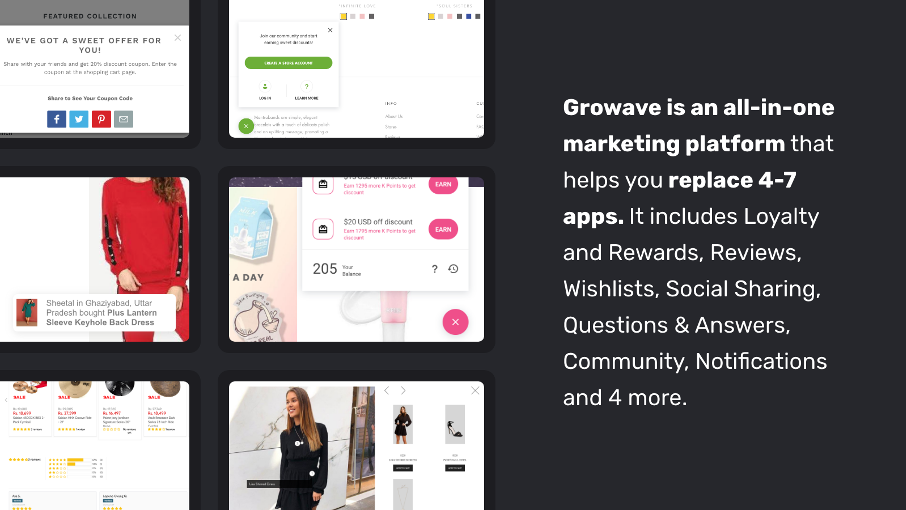 Growave is one of the few Shopify apps that does it all. It's a platform for increasing sales and perfecting your marketing campaign. Use it to launch a loyalty program for your Shopify store, so you can reward your regular customers.
You can also use Growave to add social proof to your ecommerce store. Customers can ask questions about your products and leave reviews on items they've purchased. Showcase this user-generated content on your website and social media platforms to help convert visitors.
Key features:
Add wishlists to jumpstart the customer journey. And use reminders to nudge customers to finalize those purchases when they're ready.
Increase repeat customers by adding a loyalty program.
Use social proof to increase conversions by including customer reviews on your website.
Pricing: Growave offers a 14-day free trial. The cheapest plan starts from 19$/month.
Get the Growave app Review here Read Full Review
26. Cartloop: Communicate with customers in real-time using SMS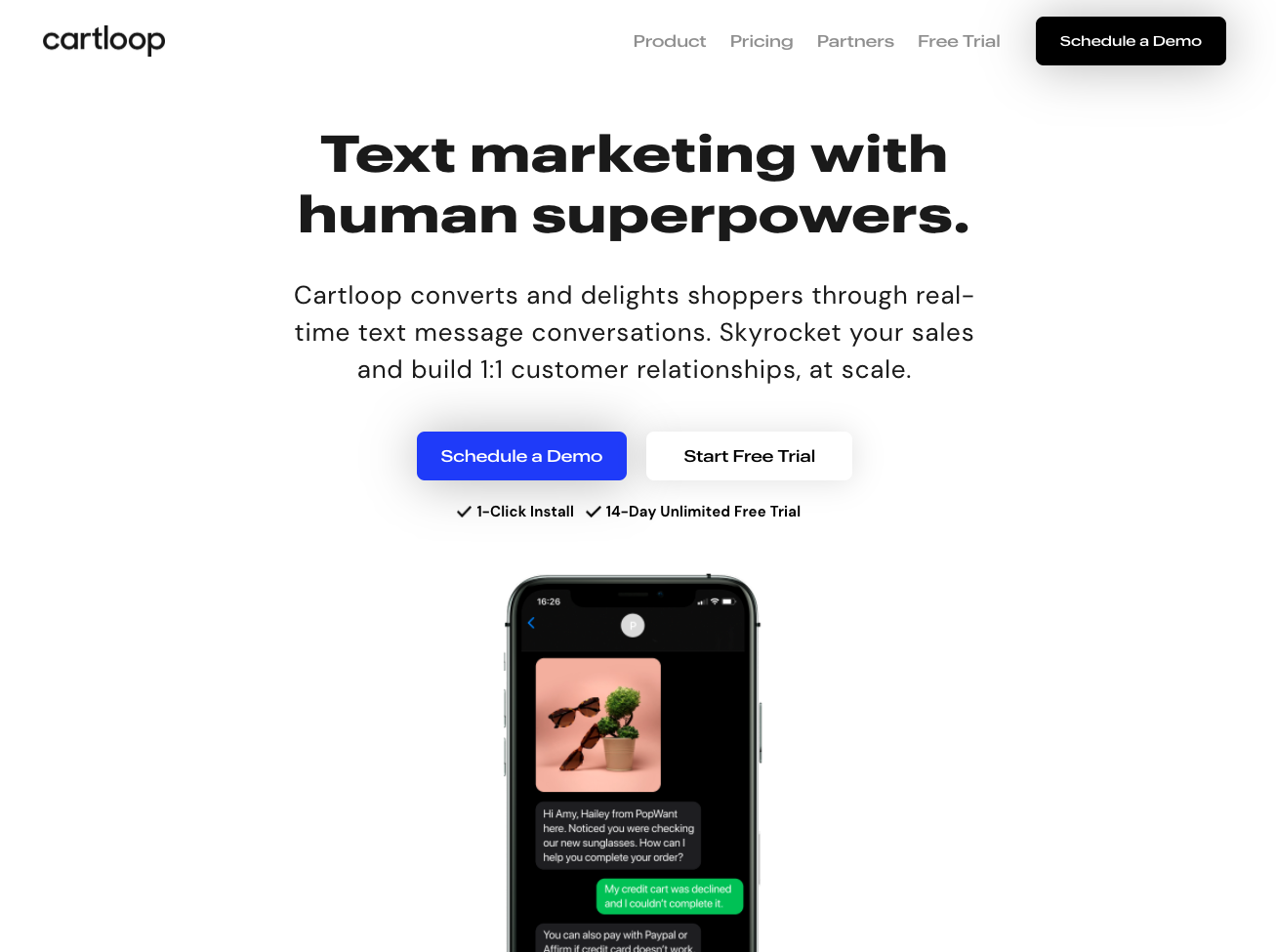 Cartloop combines customer service and SMS marketing to create a platform that truly enhances your visitors' onsite journey. Cartloop is different from other messaging platforms because it promotes real-time conversations through marketing automation.
Use it to add a human element to your business by bringing one-on-one conversational text messaging to your ecommerce platform. Cartloop lets you create meaningful and personalized touchpoints.
Key features:
Use SMS messaging to engage with customers and solve their problems, recover lost sales, and recommend products.
Collect data from conversations to better understand how customers use your site.
See how much money you're generating through SMS campaigns with Cartloop's revenue reporting.
Pricing: Cartloop offers a 14-day free trial. Once the trial is up, you can choose between three subscription packages.
The free package includes all the basic features that Cartloop advertises, but Cartloop takes 15% of the monthly revenue you earn through their marketing platform. Paid packages start at $29 a month and also take a percentage of your Cartloop revenue.
27. Sixads: Drive traffic to your site through advertisement sharing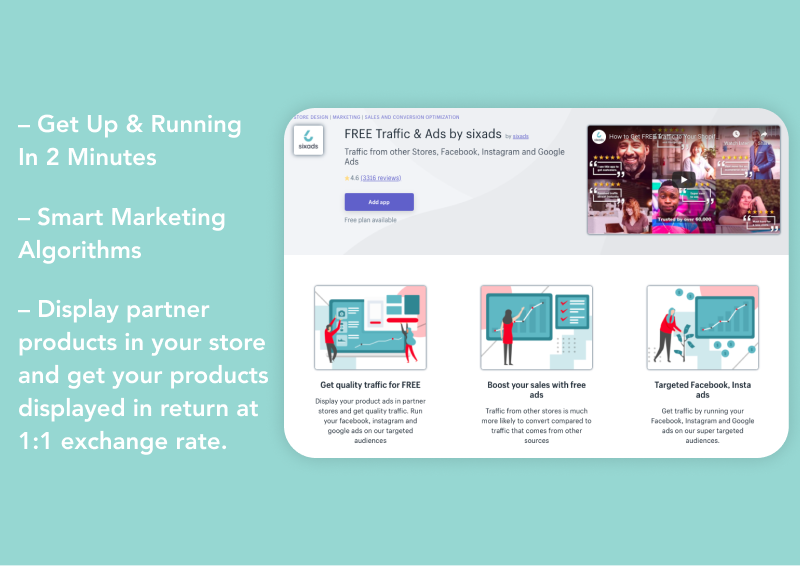 Sixads is a Shopify app that helps businesses with their advertising campaigns. It's also quick and easy to set up.
You can choose the items you want to advertise and Sixads starts directing traffic to your site within minutes. Your inventory is advertised by participating partners. And their products are advertised in your store.
Use Sixads to launch and manage your advertising campaigns on Instagram, Facebook, and Google from one location.
Key features:
Turn traffic into potential sales by exchanging advertisements with participating Shopify stores.
Advanced algorithms determine the best time to target visitors with your ads based on their browsing behavior.
Save time managing ads by connecting your Google, Instagram, and Facebook accounts.
Pricing: Sixads offers a basic free package. Premium subscriptions start at $14.99 a month and include a broader range of features for your advertising campaigns.
28. Easy Google Shopping Feed: Reduce the time it takes to update Google Merchant data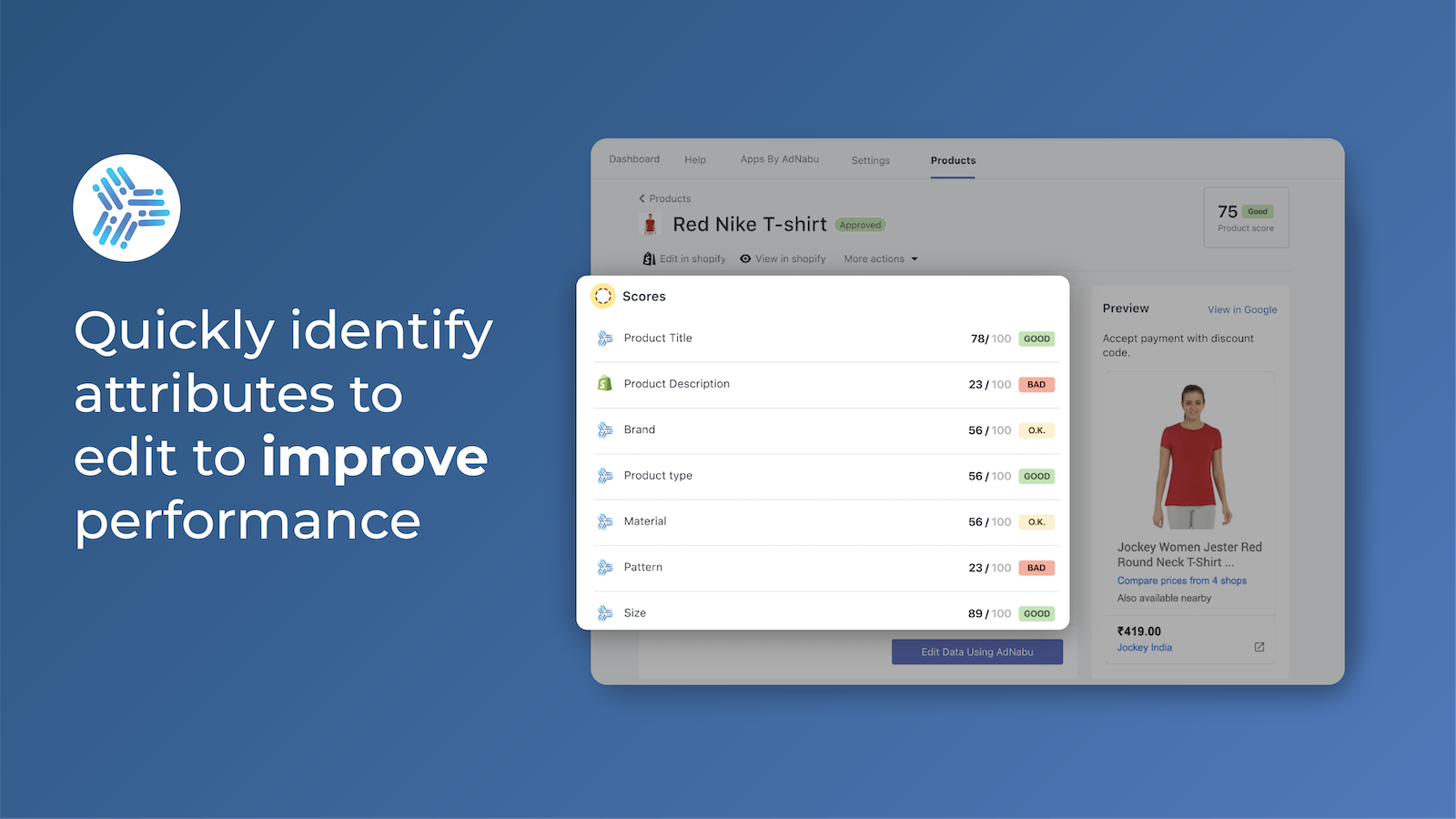 Easy Google Shopping Feed minimizes the time and effort it takes to upload and manage data in the Google Merchant Center. Make bulk changes to products in a couple of minutes or optimize product descriptions to increase conversions.
Key features:
Assign a score to your product description based on how well it'll perform on Google ads.
Use their metafield support to save time when adding unique product data.
The bulk edit feature lets you modify dozens of products simultaneously.
Pricing: The Easy Google Shopping Feed free plan lets you manage one product. Premium packages start at $19 a month and support 1,000 products.
Get the Easy Google Shopping Feed app here
29. Metrilo: Track the way customers interact with your Shopify store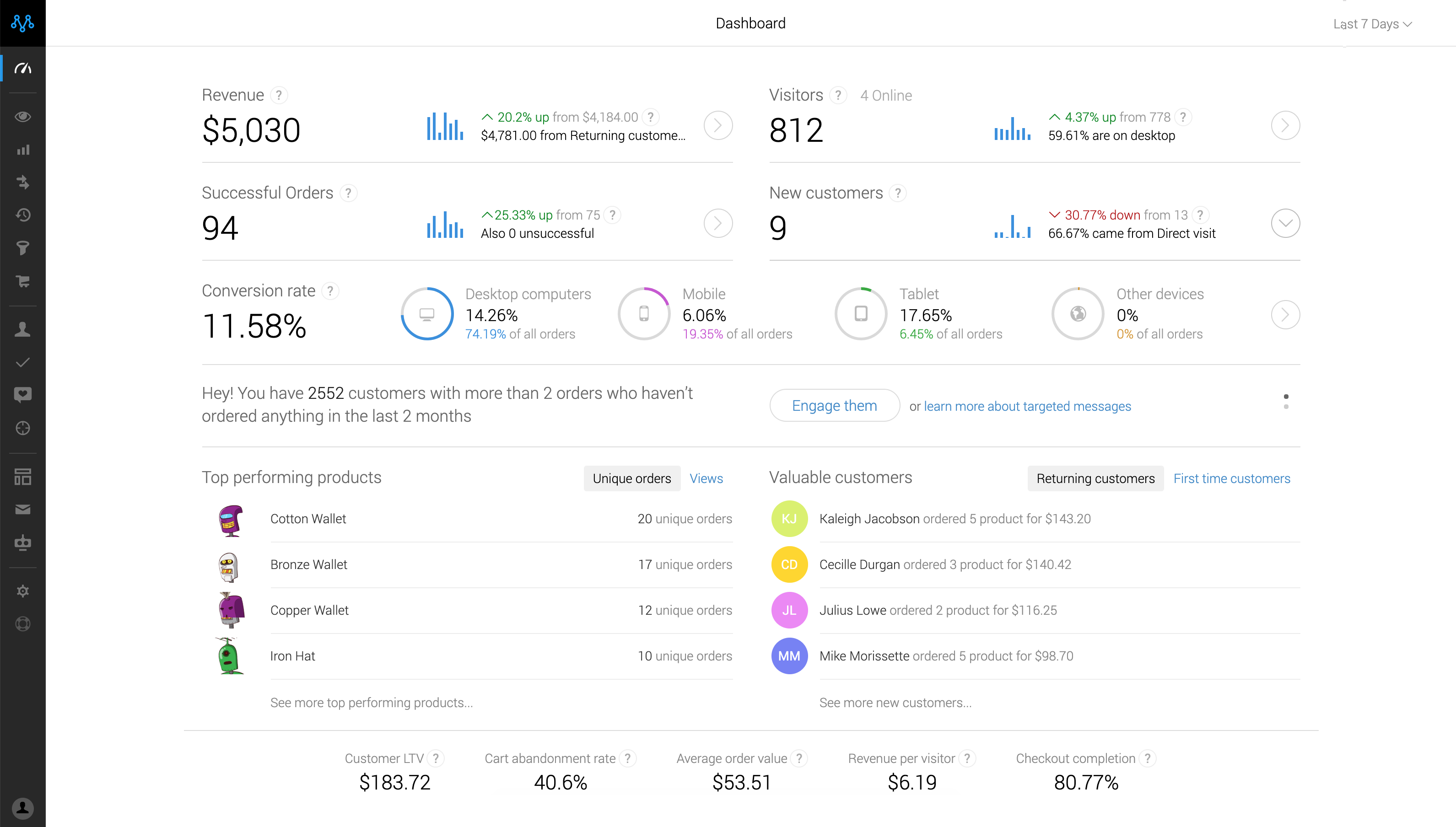 Metrilo is more than a simple marketing platform. It is one of the best Shopify apps to increase conversions, sales, and traffic. You can use it to monitor traffic sources, marketing campaigns, customers' purchases, and optimize your visitors' onsite journey.
Key features:
Stay up-to-date with your store's performance by tracking a wide range of sales and marketing metrics.
Build email lists, segment visitors, and send automated emails to your customers.
Create customer profiles based on your shoppers' browsing and purchasing history, then send them hyper-personalized messages.
Pricing: Packages for Metrilo start at $119 a month or $1,190 a year.
30. Multi Carrier Shipping Label: Automate your fulfillment process

Multi Carrier Shipping Label is one of the best shipping solutions on the Shopify app store. This app will simplify the way you deliver packages if your store sells physical items.
Connect it with popular carriers like USPS, DHL, UPS, and FedEx, then automate your fulfillment process.
Key features:
Add real-time shipping rates to your Shopify checkout page. Choose from multiple carriers.
Print shipping labels in large batches.
Email customers with step-by-step shipping updates during the fulfillment journey.
Pricing: Plans start at $9 a month.
Get the Multi Carrier Shipping Label app here
31. ProductStories: Make your web pages mobile-friendly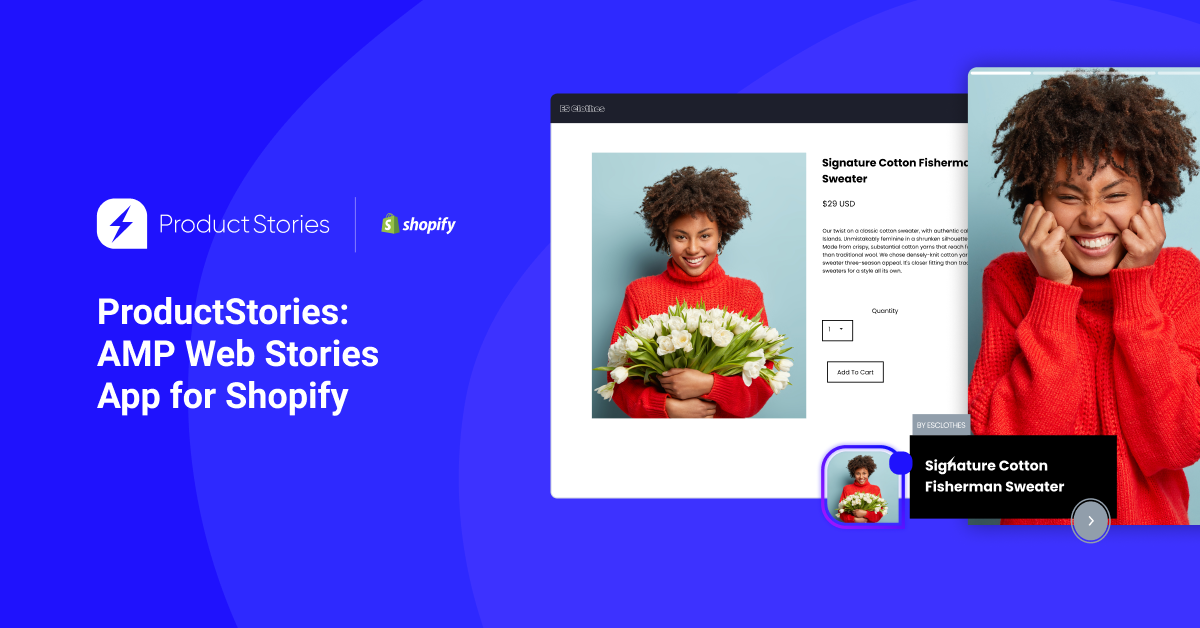 ProductStories is an easy-to-use app that increases your store's SEO by creating Google AMP URLs for every product page on your website. It makes your Shopify store easier for mobile users to browse. Plus, running a mobile-friendly website can significantly improve your SEO performance.
Better SEO leads to more traffic—means more customers to sell to.
Key features:
Automatically creates AMP URLs.
Add a floating story widget to open the AMP version of the webpage.
Use the analytics dashboard to measure the success of your products.
Pricing: Comes with a free version that offers 25 active product stories. Premium packages start at $9 a month.
Get the ProductStories app here
32. TxtCart: Automate your SMS marketing campaign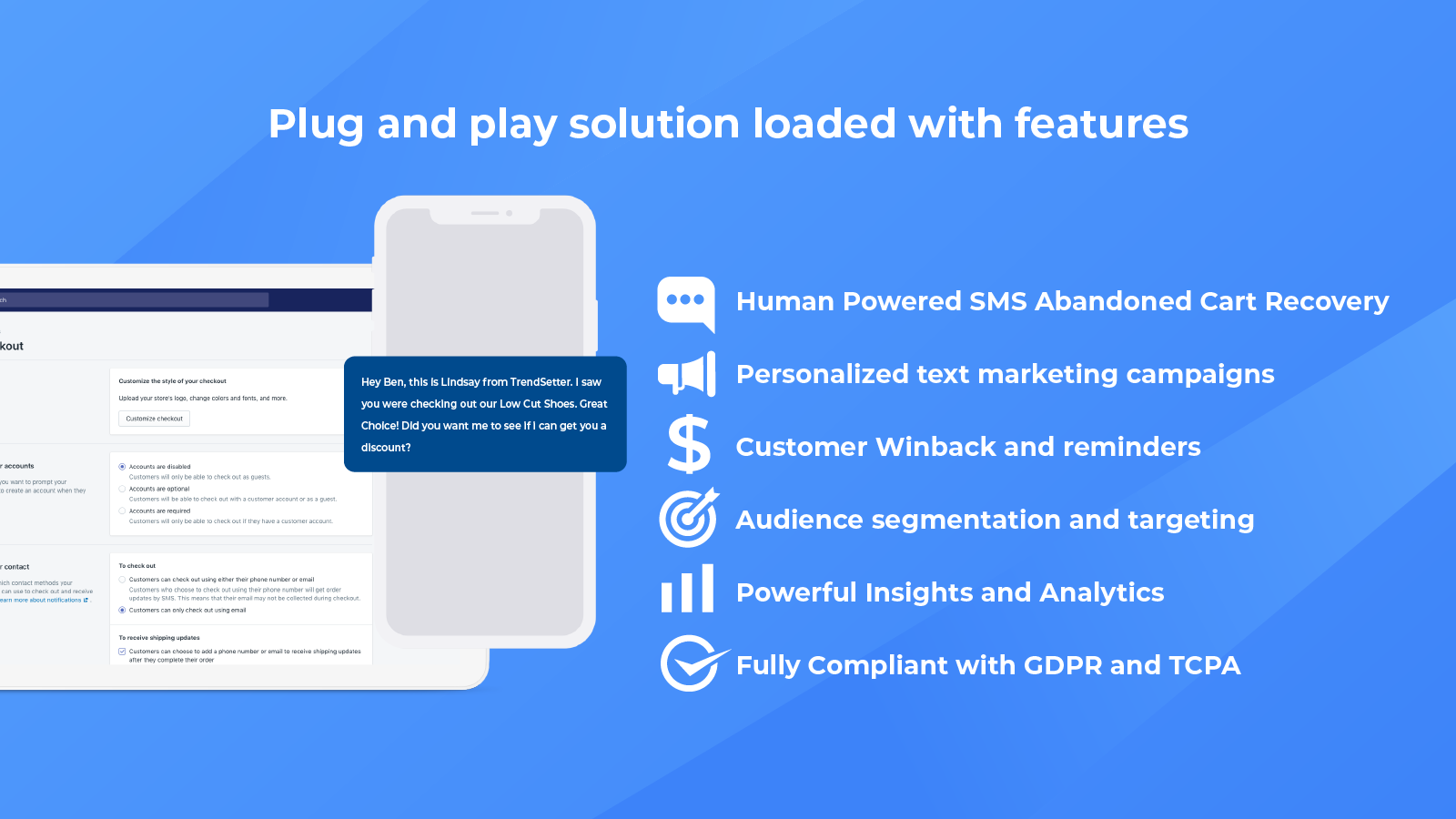 TxtCart lets you improve your marketing and abandoned cart campaigns through two-way communication. Talk directly to your customers via SMS—providing them with an interactive shopping experience.
You can use it to remind customers of items sitting in their checkout carts, give them personalized customer support, or recommend products that customers love. This makes TxtCart the perfect Shopify app for store owners looking to make the customer experience more personable.
Key features:
Build lists and communicate with customers in real-time while maintaining GDPR and TCPA compliance.
Integrate with ReCharge, CartHook, Zipify, and other popular Shopify apps that simplify the way you manage your sales and marketing campaign.
Improve your conversion rate by using TxtCart to generate one-time discount codes and send them to your customers.
Pricing: Services are free, but TxtCart takes 15% of the money generated through the app. They also offer premium services starting at $49 a month. These subscriptions include more advanced marketing tools and take less of your monthly revenue.
33. Gladly: Learn more about your customers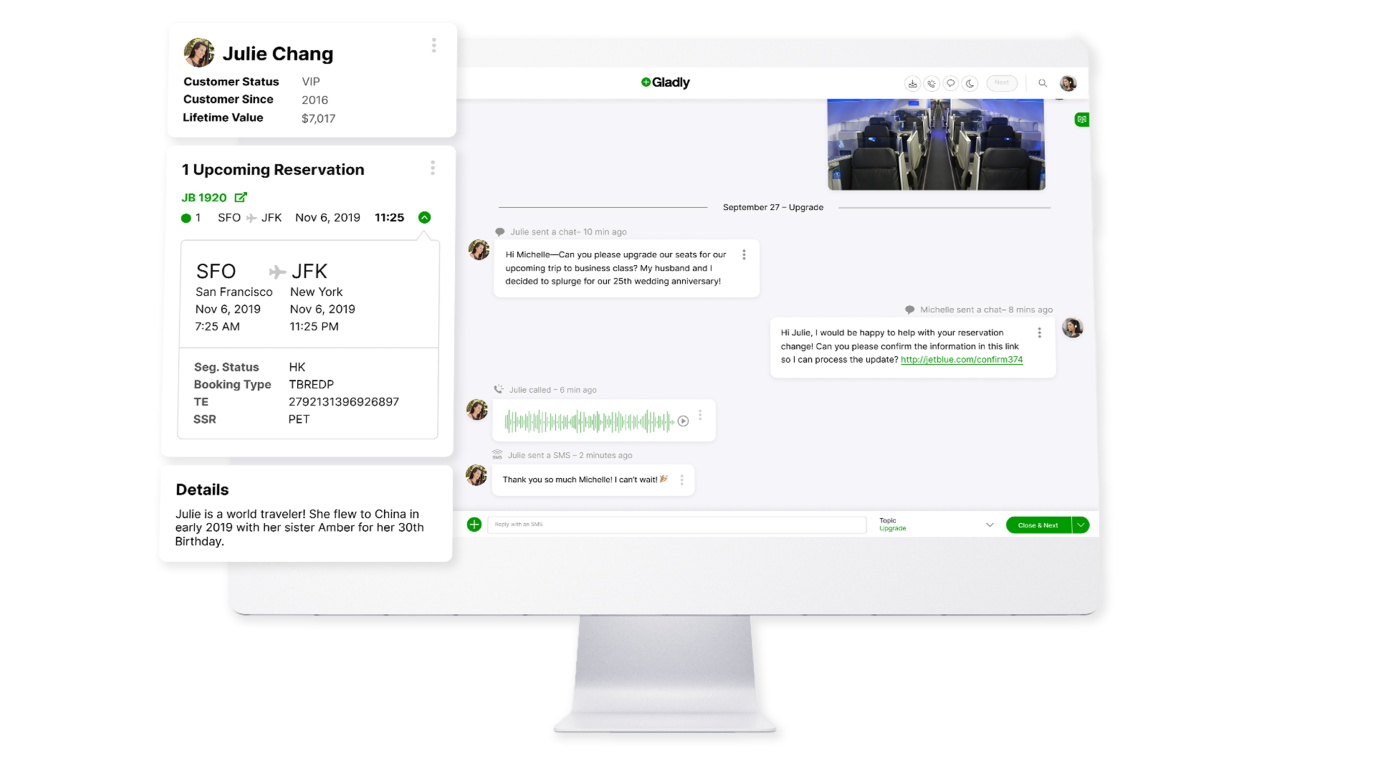 Gladly does more than simply issue customer service tickets. It also builds comprehensive customer profiles that give you better insight into:
Who your customers are.
Their buying habits.
How they've previously interacted with your store.
Use this to understand your customers' needs and make every touchpoint a memorable one.
Key features:
Gain a better understanding of your customers by tracking every customer interaction across all channels of communication.
Comes with built-in communication tools like Interactive Voice Response (IVR), text messaging, and in-app chat—improving your customers' shopping experience.
Build a FAQs page and automated help centers for your customers.
Pricing: It costs $150 a month to run Gladly's full-service solution. There's also a task-based subscription for $38 a month, but it's only for internal support solutions and doesn't assist with customer communication.
34. Acquire: Use live chat to guide your customer down the sales journey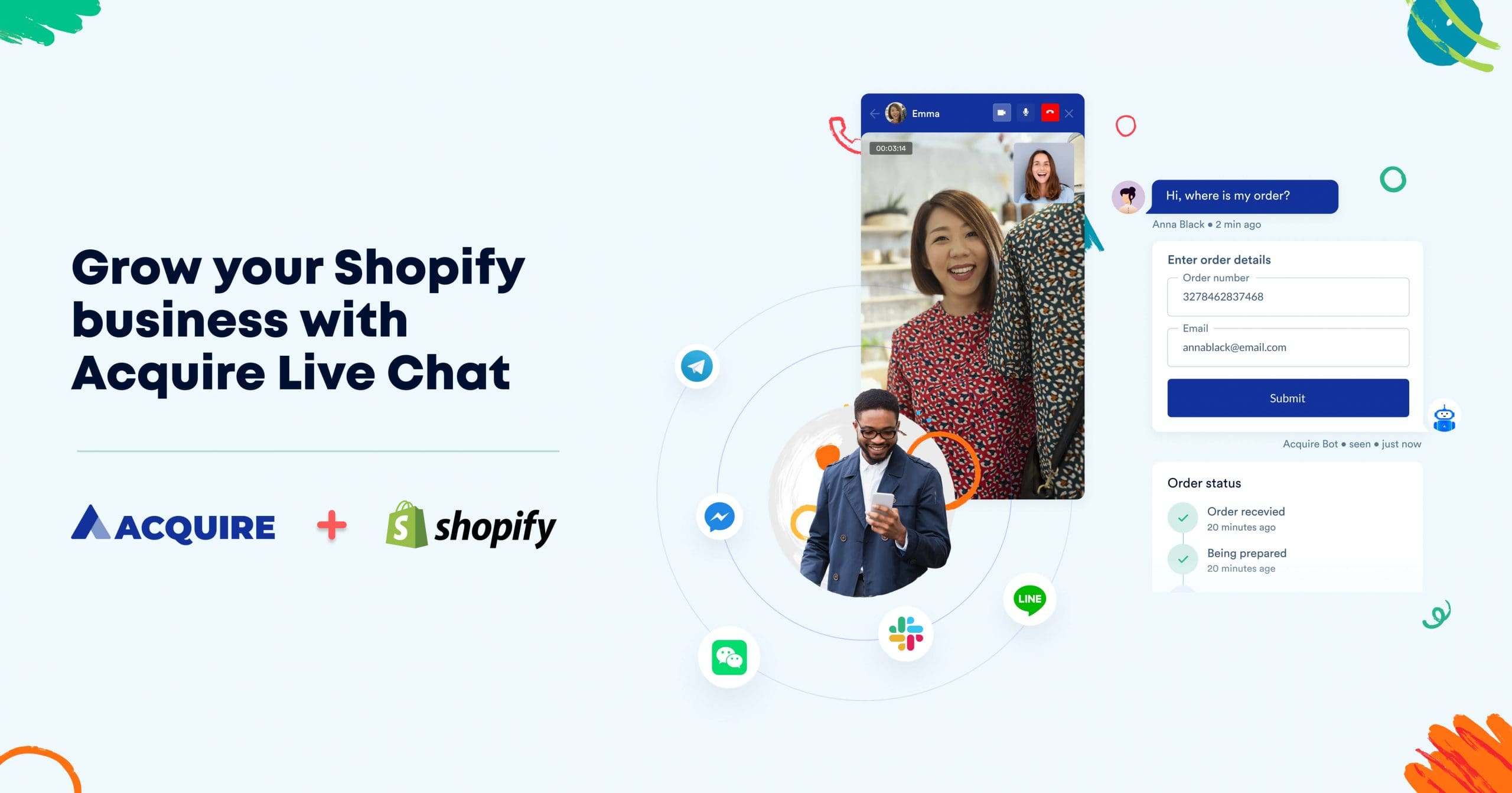 Acquire makes live chat even easier to communicate with buyers visiting your Shopify store.
You can chat with your visitors through their preferred way of communicating. You can manage customer orders, issue refunds, and resolve issues quickly and efficiently.
Track how customers have interacted with your brand from how they've communicated with your support professionals to what they've previously purchased from your store. You can use this information to personalize messages and address any issues they're experiencing.
Key features:
Create AI chatbots to answer frequently asked questions.
View customer interactions from SMS, social media, email, and chat in a single window.
Integrate Acquire with nearly 50 social media and business apps to connect with customers across a broader range of channels.
Pricing: Acquire's standard package costs $90 a month. They also offer a professional package for $120 a month with AI chatbots and real-time reporting.
35. Clever Ads: Free tool for optimizing your Google Ads campaigns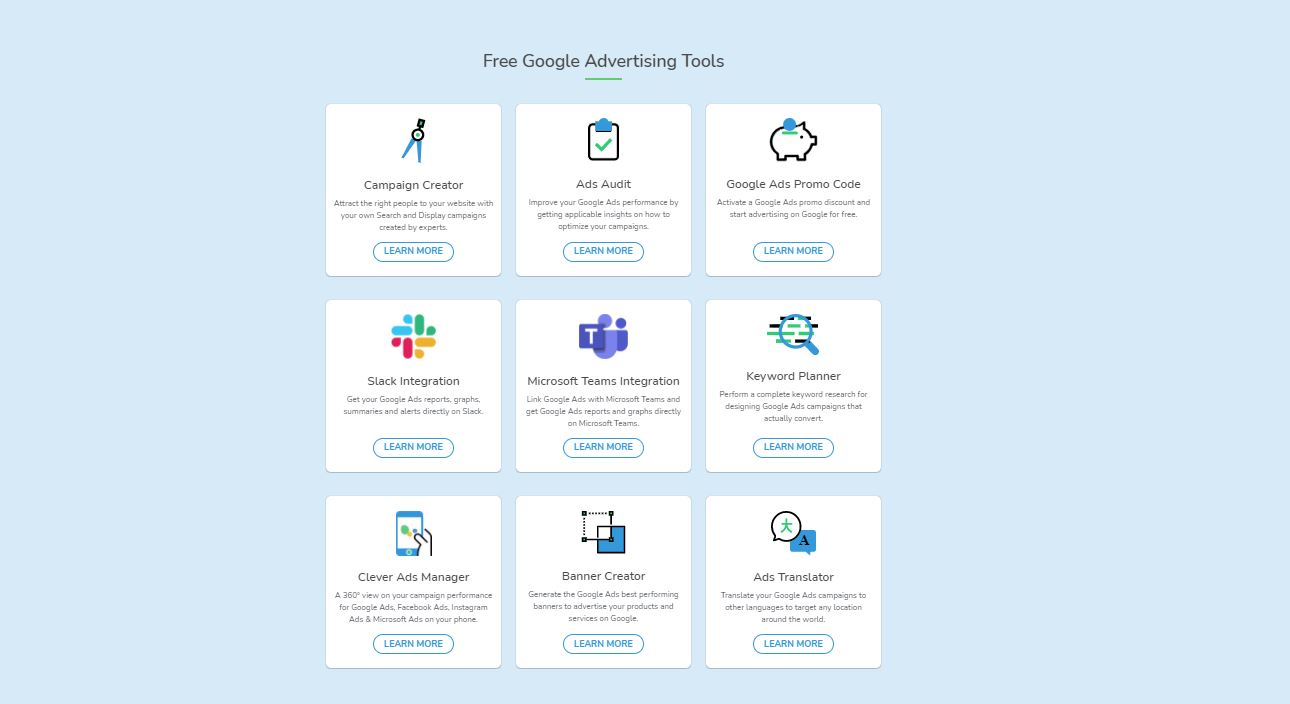 Clever Ads is an advertising management solution that helps you improve the way you run Google Ads. This platform is for you if you're looking for an app that reduces the time it takes to create, launch, and optimize your Google advertising campaigns.
You can enjoy a better conversion rate without spending hours planning and running your campaigns.
Key features:
Integrates with popular collaboration tools like MS Teams, Slack, and Google Chat.
Use the Keyword Planner tool to plan and optimize your ads—so they connect with the right audience.
The auditor tool analyzes your campaign's performance while giving you valuable insight into how you can improve your conversion rate.
Pricing: Clever Ads is completely free—so you can enjoy all these amazing features without paying a cent.
36. Reveal: Customer Data Platform – Learn what your customers care about. At scale.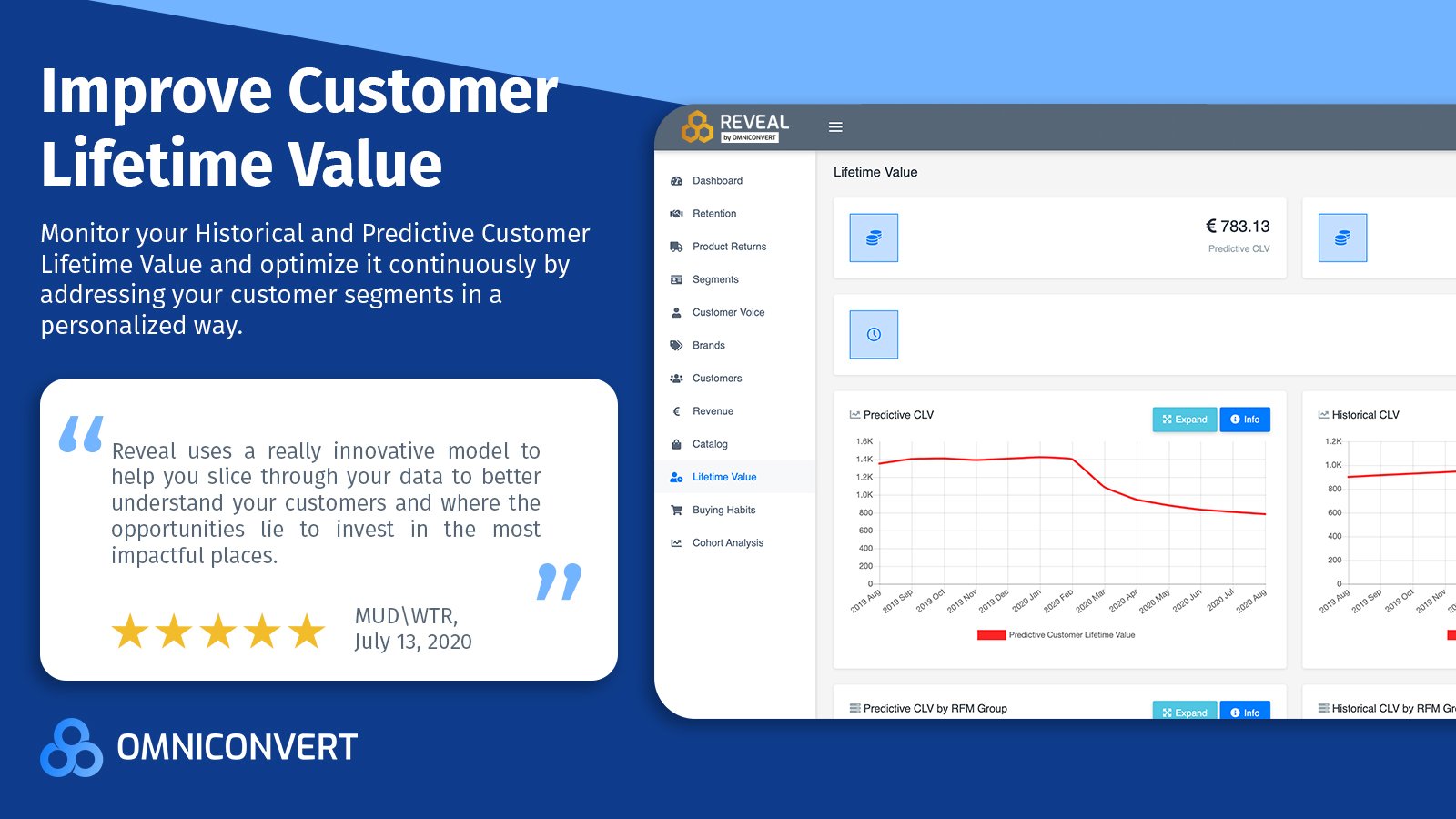 Reveal is a customer data platform that can analyze your customers' behavior across different channels. You can use Reveal to understand how to acquire, retain and delight your customers, with a focus on reducing CAC and increasing customer lifetime value.
Key features:
Advanced buying behavior segmentation (RFM)
Enhance email marketing through Klaviyo integration
Reduce ad spend by using existing customer data for marketing and retargeting
Forecast next actions by analyzing and stimulating repeat buying behavior
Maximize your profits by creating targeted campaigns and email flows through the integration with Klaviyo, Facebook, Google Analytics, Instagram
Track only what matters, not vanity metrics
Customer experience by using pre and post-delivery NPS surveys through the integration with Omniconvert Explore
Product performance by improving product assortment
Pricing: Reveal offers a 14-day free trial to try out the basic features of the platform. The paid options include 2 plans: GROW for $99/month and SCALE for $299/month.
37. Tidio: A Better Way to Connect With Customers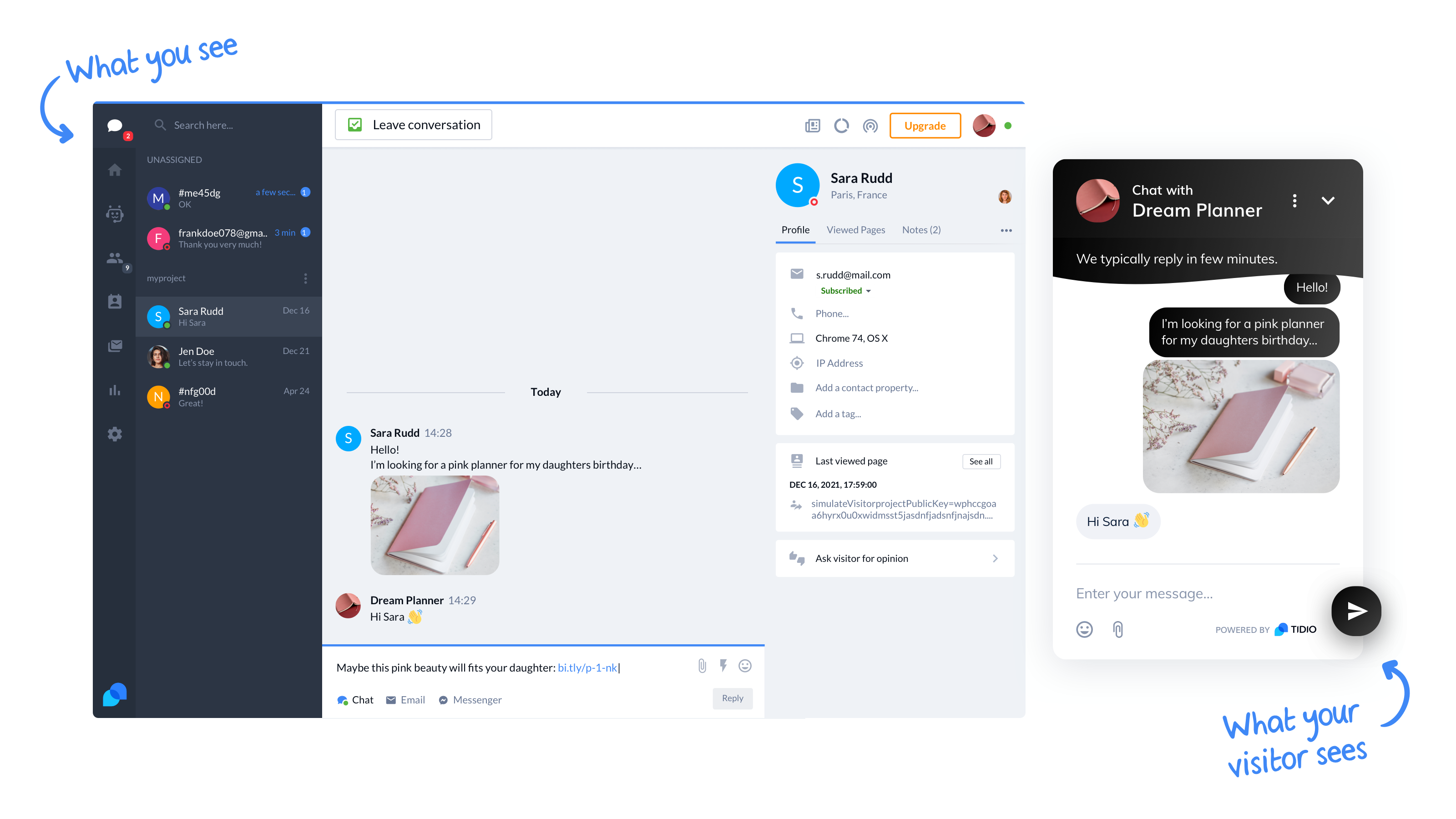 Tidio is a business communicator that integrates live chat, chatbots, Messenger, and email into one platform. It helps you interact with consumers naturally and effortlessly and turn your client support into a real-time event.
With Tidio, visitors can start a real-time conversation simply by sending the first message, and, on the other hand, customer support operators can handle multiple queries simultaneously and thus serve more clients at the same time.
The tool will support you in automating tasks, nurturing leads, and reducing the amount of time you spend communicating with consumers.
Key Features:
An intuitive, no-code drag-and-drop editor for creating customized messages quickly.
Integration with Messenger, WordPress, CRM, eCommerce, and email marketing platforms.
Live typing feature that allows customer agents to see visitors' messages as they're being typed in real-time. This way, the customer agent can think of a reply before the visitor even sends their question.
Pricing: Tidio offers a forever-free plan with essential chatbots, live chat, and email marketing features.
If you want to unlock advanced live chat features, you can upgrade your plan to Communicator, Chatbots, or Mailing. Paid plans start at 18 EUR/mo.
38. Veeqo: Manage your inventory for physical and online stores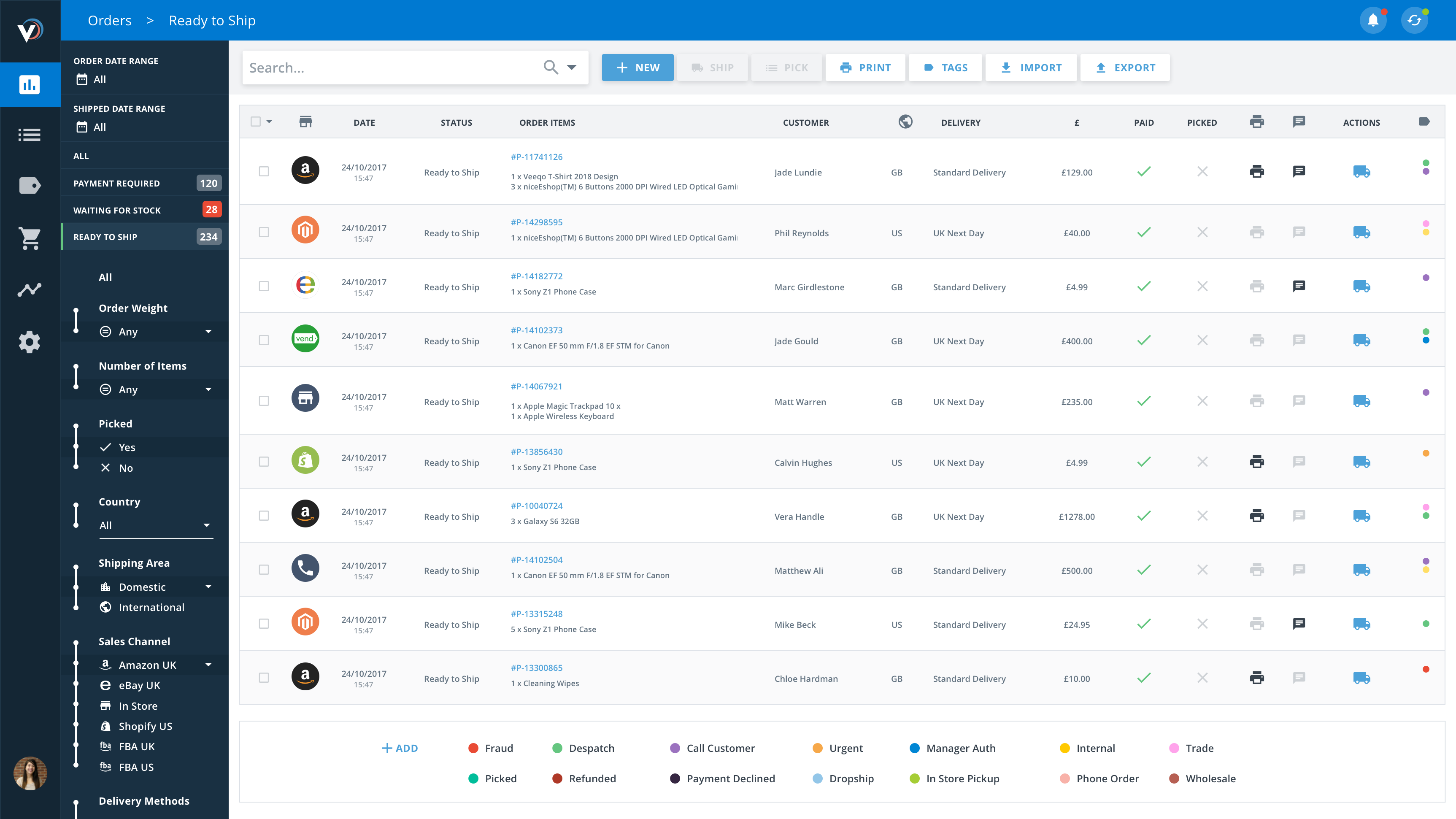 Veeqo is different from the other Shopify apps we've covered. It's not a marketing or sales tool; it's an app to manage your backend tasks. You can use it to keep track of inventory, manage your shipping, and even process returns. Veeqo makes it easy for you to handle the logistical side of running a store, so you can spend more time driving sales.
Key features:
Seamlessly integrates with Shopify's point of sale (POS)—so you can track inventory between ecommerce and physical stores.
Use the internal order management system to look up orders, send order details to employees, and monitor your deliveries through every step of the fulfillment process.
Sync your inventory across different sales channels, including Amazon and eBay.
Price: Veeqo offers a 14-day free trial. Subscription packages start at $195 a month.
39. Sendlane: Send personalized emails to your customers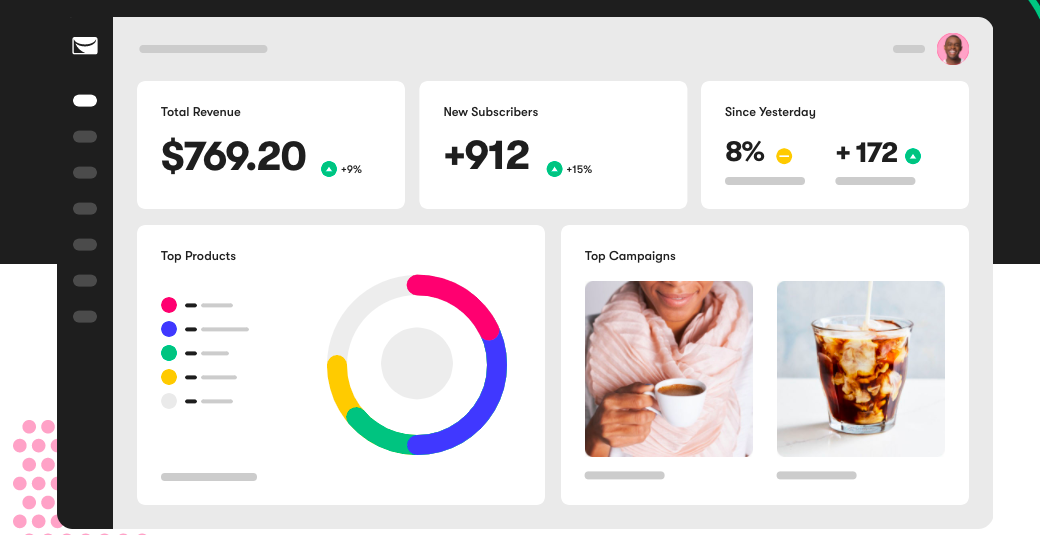 Sendlane is an ecommerce email marketing automation platform that helps drive sales through personalized emails. You can automate your customer emails without losing that personal touch that creates lifetime shoppers.
Key features:
Supports email and SMS marketing
Dynamic emails for cart abandonment emails
Behavioral targeting
Use the drag-and-drop automation builder to create workflows without writing any code.
Integrate with Shopify and other popular ecommerce apps for valuable customer data that enhances your sales journey.
Pricing: Sendlane offers a 14-day free trial. Plans start at $79 a month.
40. GetResponse: Emails automation for Shopify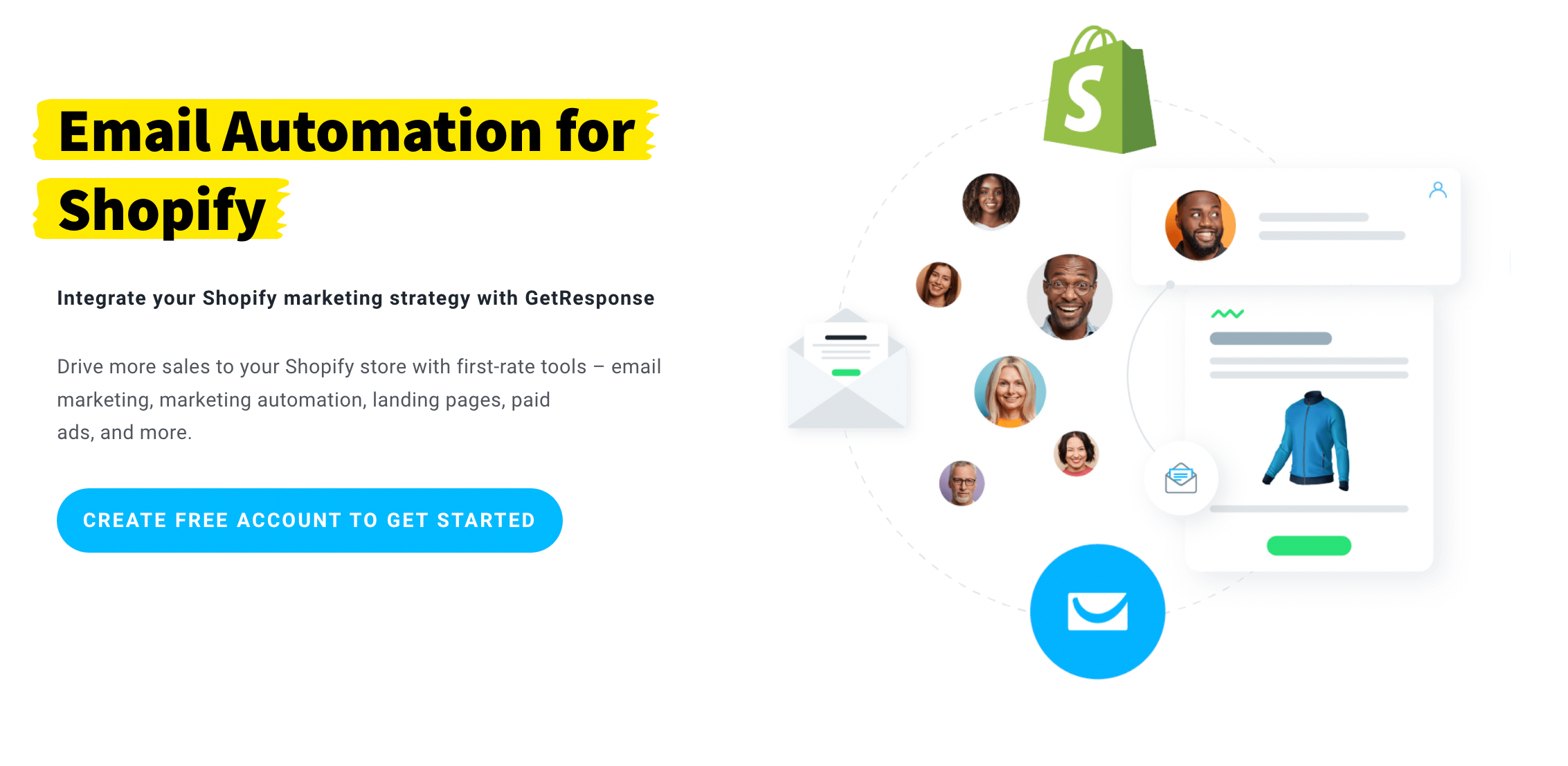 Want to promote your Shopify store via email, SMS, and web pushes from a single app? Then you'll want to try GetResponse. Although it's best known for its email capabilities, GetResponse packs more practical features for online store owners.
You can get your campaigns quickly off the ground using their vibrant email templates, pre-built automation workflows, and no-code quick transactional emails.
And if you want to offer your customers a more direct way of contacting your team, you'll also find a handy live chat solution built into their app.
What's also worth mentioning is that the platform's fully translated to over 20 languages and offers 24/7 customer support via live chat. So even if English isn't your native tongue, you'll be able to navigate through the tool easily.
Key features:
Advanced automation workflows let you send emails, SMS, and web pushes based on your users' activity.
Ability to run targeted campaigns based on your customers' purchase behavior.
Additional built-in features that'll help you sell more of your products like paid ads, live chats, and webinars.
Pricing: GetResponse offers a free account with 30-day access to all premium features. Plans start at $15 a month.